Clinique Moisture Surge Extra Thirsty Skin Relief…
I got two 30ml jars of Clinique Moisture Surge Extra Thirsty Skin Relief as part of my Clinique
'freebie haul'
from London…after 7 weeks or so, I've already finished one and about a quarter of the way through my 2nd jar…eeps!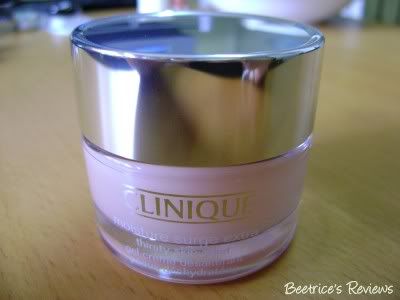 Description:
Rapidly boosts skin's moisture levels, restoring balance. Even plumps up skin's resistance to fine dry lines. Use whenever, wherever needed, under or over makeup.


The Verdict:
This is by far, one of the best moisturizers I have ever used! I love the way the gel formula literally melts into my skin and evens out my skin tone without a greasy residue on my skin. I've been using this ever since returning from my London trip, and since then my skin has been very well behaved. :) No untoward breakouts, even during my PMS. I usually use this twice a day, in the morning and at night before I go to bed together with the
'All About Eyes'
as well.
PS: Quick update on the
All About Eyes
– it ROCKS! I can seriously tell the difference if I haven't been using it, and has managed to reduce my eye bags substantially.
As far as this gem goes, I've got no complaints. Oh, and with regards to my ranting and raving about Clinique's front line staff? I'm still as peeved about the counters in 1Utama, Jusco Midvalley and Parkson KLCC
(amongst others!),
but perhaps there's one ray of light in the whole lot – the girl at the Clinique counter at Metrojaya Midvalley…passable, and not too pushy. I just happened by there to check out the prices of some of the products, and from my previous experiences, was ready to
'do battle'
if needed…didn't need it after all
…*phew*
However, the price point is still a bit of a sore point for me…in the UK, the Moisture Surge retails for under £20 for a 50ml jar
(under RM130)
, which is at least RM30 cheaper than it is here. Considering that I got 2 jars of 30ml
FREE
, that's almost
RM200
worth in the freebie haul! :O Add that to the fact that you get a whole pack of freebies
(and NICE bags compared to the fugly ones we get here)
for every 2 items purchased
(inclusive of one skincare item)
, it's really not worth buying in Malaysia.
*sigh*…
I guess I'll have to start bribing my UK friends to bring it back for me when they come back then…arrrgghh!!
Clinique Moisture Surge Extra Thirsty Skin Relief retails at RM160 for a 50ml jar and is available from all Clinique counters nationwide.

Rating: 4 / 5
Value: $$$
(but only if you buy it in the UK!)
Labels: skincare