The Body Shop Green Tea Shower Gel…
This particular Limited Edition range is actually from the 2007 holiday lineup, but as usual hit our shores rather late early this year. Their range of shower gels includes Ginger as well as a Green Tea variant, which is the one that caught my eye.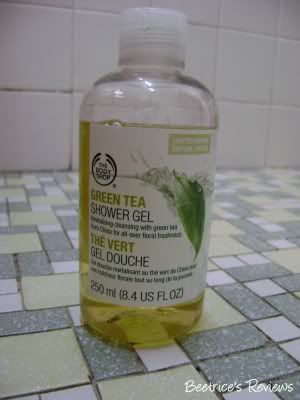 Description:
A refreshing and zesty soap-free cleansing gel with a fresh vibrant fragrance to cleanse and refresh skin. Contains green tea from China for all-over floral freshness; organic honey to moisturize and condition; and glycerin to help improve softness and maximize hydration.
The Verdict:
To be honest, I can't find much to say about this shower gel
(what DOES one say about a shower gel?)
I like the distinct-but-not-too-overpowering smell of this shower gel, as it reminds me of Elizabeth Arden's Green Tea fragrance. I only need about a tablespoon at a time, which is good since a bottle can last me for quite a while. The gel also lathers up well when used with a mesh puff. I stocked up on this during the last sale – hey, I don't know how long it'll be on the shelves… :)
The Body Shop Green Tea Shower Gel is available for a limited time at all Body Shop outlets nationwide, and retails at RM24.90 for a 250ml bottle.
Rating: 4 / 5
Value: $$
Labels: bodycare