The Body Shop Deadly Desires Collection Swatches…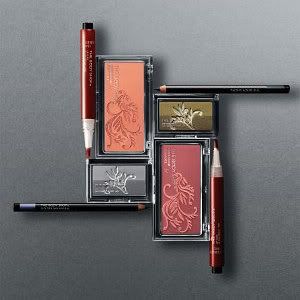 After seeing
Paris' post
on The Body Shop Deadly Desires collection, I was passing by my usual Body Shop outlet and managed to get some swatches of the new makeup… :)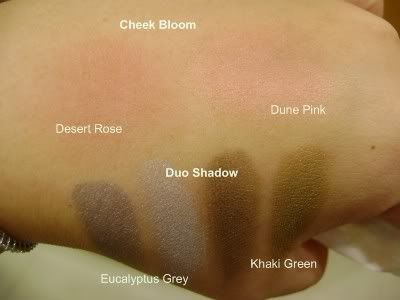 First up was the Cheek Bloom blush in Desert Rose and Dune Pink. I loved it with the shimmer pattern, but out of the two, I preferred Dune Pink for a girly flush. Along the bottom are the swatches for the Duo Shadow compacts in Eucalyptus Grey
(shades of deep and light silver)
and Khaki Green
(shades of brown green shimmer)
. They've got great texture, with a good pigment.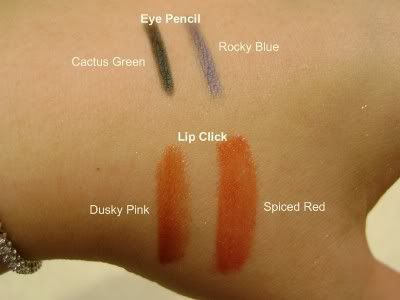 Their Eye Pencils in Cactus Green and Rocky Blue are really nice! I can so see this making my regular makeup list. There are also two Lip Click glosses in Dusky Pink and Spiced Red.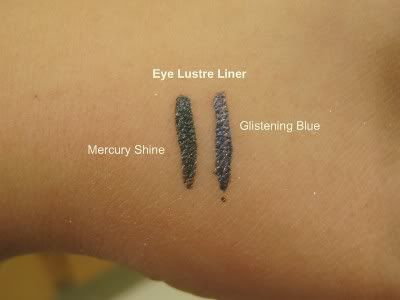 However, while I was there, I couldn't resist trying out The Body Shop Eye Lustre Liner in Mercury Shine and Glistening Blue. Simply gorgeous, aren't they? I found the brush really easy to use, and ooh, the Mercury Shine green was SO enticing!!

Err…I have a confession to make…*cough cough* I succumbed – ended up getting the Lip Click in Dusky Pink and The Eye Lustre Liner in Mercury Shine! :D

Cheek Bloom – RM79.00
Duo Shadow – RM55.00
Lip Click – RM49.90
Eye Pencil – RM35.00
Eye Lustre Liner – RM48.00


The new Body Shop Deadly Desires Collection is out in selected Body Shop outlets nationwide.