Storage fun…
Ever since I had my ears pierced, I've been fascinated by dangling earrings…nevermind the studs and small hoops
(I can't wear big hoops though since they tend to stick out straight from my ears – sideways!)
, for an evening out it's definitely a pair of danglies that wins hands down.
But then, storing them was a big issue. For one, since they were so long, they used to get tangled up with each other, and finding a matching pair was also a problem. For a while, I bought a multi-compartment box similar to a pillbox to store them but the longer earrings couldn't fit properly inside.
Then one day while I was trimming some underlay anti-slip for my rug, I had a sudden thought and started snipping away…and voila! The end result: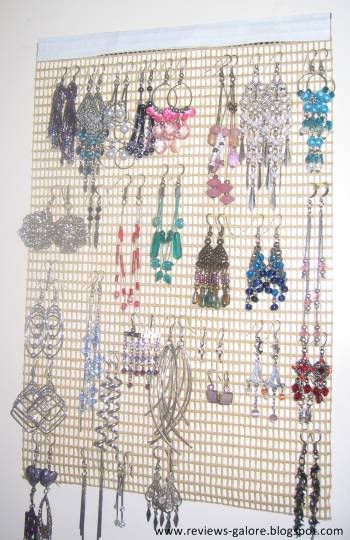 Like it? It took me just 5 minutes to trim the anti-slip underlay
(you can get this from Ikea)
and put it up with a strip of mounting tape. In fact, come to think of it – I took a longer time hanging up my earrings! :D Since then, my stud and small hoop earrings have gleefully taken over residence of the pillbox compartments while the dangling wall makes a nice feature on an otherwise all-white wall in my room.
The underlay is actually perfect for this since it's lightly coated in latex, so your earrings don't move about too much once you've hung them on, earrings can be hung in any pattern or arrangement you want, and the holes are just the nice size for most people to use with ease
(no microscopic holes here to stump the myopics!)
.

So how do you store your earrings??
Labels: tips n news, try it