Rimmel London Glam'eyes Mascara…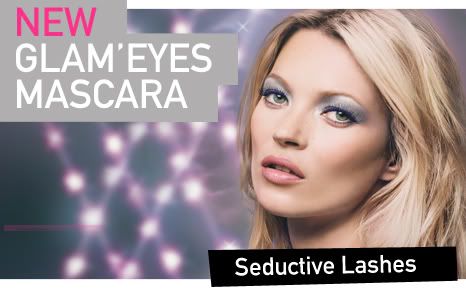 When I saw the ads for this in London, I was rather intrigued by it. Kate Moss definitely elevated Rimmel's visibility and 'glam factor' by becoming its spokesmodel for sure, but in my opinion Rimmel could have held its own even without the supermodel. Of course, being the product junkie that I am and since it was on sale at £4.99 I figured I might as well give it a try and see if it really lived up to its hype.


Description:

Rimmel Glam'eyes Mascara
delivers intense volume. It has a powder pink Volumflex brush with supple bristles that are ultra-fine, with two short sides for lash building and two longer sides for separation. The supple Volumflex brush gives perfectly defined lashes that look up to 10x fuller and 80% longer. Ophthalmologist tested, and suitable for sensitive eyes and contact lens wearers.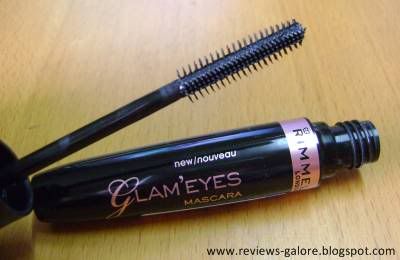 The Verdict:
In terms of packaging, I was quite piqued by the black and pink packaging. It's got a fishnet motif on the cover
(which also allows for a good grip)
complemented by its lettering in glossy pink
(or what the site likes to call 'boudoir pink').
The shade I tried was the normal
#001
in
Black
.
When opened, I found that the brush was indeed quite different to what my usual mascara brushes look like. Instead of the normal brush bristles
(dunno why, but they always remind me of a 'mini toilet brush'!),
this one resembled more of a mini comb with short flexible bristles in rows.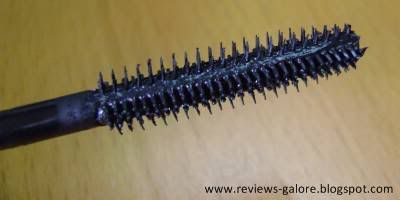 As far as the application went, it did lengthen my lashes somewhat and made them a fair bit thicker than normal. While my lashes aren't exactly sparse to begin with, they're usually quite fine and straight
(sigh!).
In this case, application was a breeze as it was likened to combing my lashes rather than trying to wiggle the hairs in between the brush bristles to coat them as is the case with a normal mascara. The brush also has an added bonus of separating your lashes as you apply the mascara, saving the time of having to go back and comb through.
Since this isn't a curling mascara, it's fair enough that I had to use an eyelash curler together with this to achieve my look. However, I would strongly recommend that you curl your lashes AFTER applying the mascara, as doing so before will not have any effect. During application, the combination of the brush and mascara simply negates any curl you may have had – my lashes were sticking straight out!
Warning must also be given as the mascara itself is very slightly more liquid than usual – think of thickened liquid eyeliner. Apart from that, once the mascara dries it give a lovely dark lash look that's suitable for daily use or layered with a second coat for a night out. I definitely like the brush a lot, and might even keep it after I'm done with this tube.
Lasting power wasn't too bad, since it lasted a full work day without any major problems. I haven't tried the waterproof variant so I can't compare, but with the normal one you have to be a bit careful as it will not hold up through a sob-fest – panda eyes alert!
Would I get this again? I like the effect it's given my lashes, and on sale it was relatively cheap – the equivalent of getting a Maybelline or L'Oreal mascara – so if it was on sale, I wouldn't mind getting it again.
Rimmel London Glam'eyes Mascara retails at £6.99 and is available in Black

(normal and waterproof)

and brown

(normal only).
Rating: 3.5 / 5
Value: $$
Labels: mascara