Paul & Joe Makeover @ Parkson KLCC Counter…
I've been reading about Paul & Joe on
Nikki
's site for the longest time now and she's always raving about it. Well, they finally opened a couple of stores in Malaysia these past few months, and when I was offered a chance to go for a free makeover, why not?
Warning: Scary 'before' photo ahead!

Yes, I know I look horrible…blame it on the lack of sleep, and waking up early on a Saturday morning to do this!

I went to their counter at Parkson KLCC, which is set up really nicely. And best of all, the counter girl was really nice! She patiently explained the makeup step by step while I was happily ooh-ing and ahh-ing over the products. After some discussion, we decided to play up the eyes while keeping the rest of the face natural.


The part that I found really hard to sit still for was when she was drawing my eyes and applying the eyeliner – for some reason, I cannot stop myself from blinking when other people are drawing my eyeliner especially when it's along the lower lid…no problems when it's DIY, but give someone else the pencil and…*blink blink blink blink blink blink*…arrghh!! Thank God she was patient enough to let me finish my incessant blinking before she continued…and hey, I like what she did for my eyes!

Me like!
The whole makeover session took about 30minutes to complete, and she actually used fresh applicators where possible (like for the mascara and eyeshadow). This was a simple touch, but worth highlighting – it's little things like this that make all the difference, y'know? And after all that?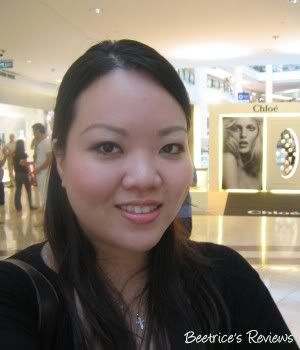 Voila! (don't mind the big forehead, the fringe was refusing to behave)
These are the products she used on me (obviously all Paul & Joe!):-
Protective Dual Powder Foundation in 02

Eyebrow Pencil in 01

Eye Colour Primer in 02

Face Color Powder in 054

(eyeshadow)

Eyegloss in 05

Dual Crayon in 01

Undereye Concealer in 02

Pressed Powder in 03 and 04

Waterproof Curly Mascara in 01

Face Color in 06

(blusher)

Lipstick in N15

Lipgloss in N04

I was absolutely taken by the Lipgloss in N04 (RM76) – it was my favourite shade, and had an amazing texture. I didn't purchase anything that time around, but gee, it's been two weeks and I'm STILL dreaming about it! (……must……resist……) She also gave me some free samples of their skincare to try, but more on that later!


What do you all think? Is the look a 'yay' or 'nay'? :)
Labels: makeover