NARS Duo Cream Eyeshadow…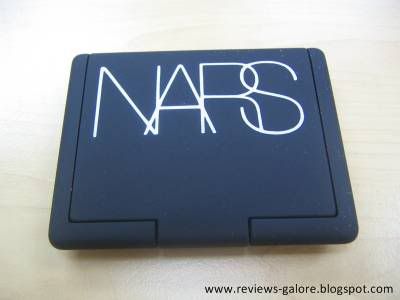 After hearing everyone around me going batty on NARS, I was browsing at the NARS counter in London and tried out the
NARS Duo Cream Eyeshadow
– and ended up buying one in Pink Panther.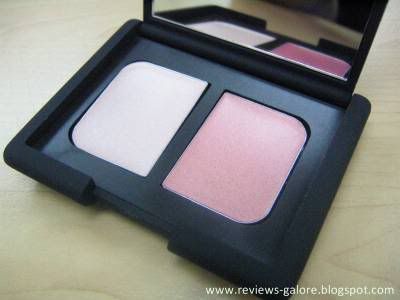 Description:
This soft, supple, cream-to-powder formula provides long-lasting color. The ultra-pigmented shades are balanced in a lightweight texture that is transparent in application. The soft-blending formula can be worn alone or layered under powder eyeshadow for long-lasting color and depth. Featuring custom color combinations that make perfect pairings, this soft-blending formula may be applied with fingertips or a brush for more precision and control.


The Verdict:
NARS products usually come in a solidly constructed case with a slightly rubbery surface. I find this pretty good since it offers a fair bit of protection to the contents of the case. Since this is cream eyeshadow, it wouldn't be affected much, but while I was at the counter the lady next to me accidentally dropped one of the blushes
(closed case)
– the case held up well, and the blush remained intact. Try that with any of the cheap plastic cases and the contents are likely to shatter into powder.
The texture of the eyeshadow is very silky, and slowly takes on a powder consistency as the day progresses. Colour-wise, the shade I selected didn't have too much depth, but for a pastel shade it had a lovely hue which was
'what you see is what you get'
.
I found that I had to use a primer on my eyelids prior to applying this eyeshadow as it tended to crease around midday without the primer. However, after some experimenting I managed to get around it by applying a neutral powder eyeshadow underneath the cream eyeshadow, and applying a light dusting of loose powder over it to seal in the shade.
The two shades are easy to apply and blend, and the fine glitter holds very well – doesn't fleck off onto your cheeks
(a big plus in my book).
Roadtest-wise, it managed to hold out a good 8 hours, which is decent for everyday use.
I've discovered that the lighter shade of the two creates a gorgeous 'deep sea blue' shade when swiped over a dark blue eyeliner, and the darker one looks fantastic paired with a plum eyeliner. Multiple looks out of one duo – score!
As far as the price goes, it's way above what I'd normally pay for eyeshadows
(it works out to about RM145 after conversion),
but it does live up to its reputation. And at just a gentle rub of the palette for each application, this will last me for some time. Would like to get a few more, but for now this will have to suffice.
(maybe the next time I happen past a NARS counter)
NARS Duo Cream Eyeshadow retails at approximately £23.00 in the UK and is also available through Sephora (at USD32 if I'm not mistaken).

Rating: 4 / 5
Value: $
Labels: makeup, tips n news