I'm in love – with my Ipanemas!
Okay okay…so I finally caved in after reading so much about Gisele Bundchen's Ipanema sandals
(and seeing them for real on Paris' feet when we last met didn't hurt any either! For the record, it's because they looked nice on her feet, that's ALL!!)
But behind it all, there was a real reason for me to get those sandals!
(or at least, that's what I keep telling myself)
You see, after the first two days of walking and walking
(and walking)
around the whole of Barcelona, I had actually developed a nasty blood blister on the fourth toe of my left foot
(think normal blister, but filled with blood instead of the usual fluid – disgusting, right?)
By the third day that we took a
'time out'
to go shopping, let's just say it was quite an agonizing experience feet-wise. My usual talking shoes just weren't cutting it, not to mention walking about 8-10km a day in rather stiff shoes. Ouch.
That was, until we got to Els Corte Ingles – somewhere on the 4th Floor, I suddenly came across this entire rack of Ipanemas…in every design and size available! Since I'd already heard so much about it, I decided to try on a pair. Needless to say, the minute I got them on my feet I didn't want to take them off at all. From there, it was just a matter of trying to decide which style and colour to get.
I was quite taken by the thong-style ones, but thinking that it was going to cut between my big and second toe, decided against it. The black was also for purely practical purposes – walking around for ages, a white/ gold sandal would end up looking like crap afterwards with all the dust and dirt! And after all, haven't you heard black is slimming?
*wink*
(Well, I dunno about sandals, but hey, black anything's good for me on a whole!)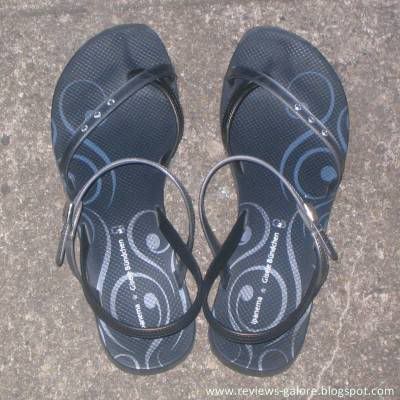 My Ipanemas!!
For the rest of the day
(and the rest of the holiday),
I was such a happy chickie with my Ipanemas, I think you could have dragged me up to Parc Guell again
(wanna know why it was such a drama? See here)
and I wouldn't have minded
(as much!).
Talk about a lifesaver…I'm definitely scoring myself another pair of these babies if I ever get the chance. There's not as much choice or supply in Malaysia, so I'll have to look at biding my time patiently
(or rather, VERY impatiently)
to get my next pair.
Ipanemas, me <3 you! *bliss*
Labels: shoes