Crisp, Fluffy Cream Puffs @ Beard Papa…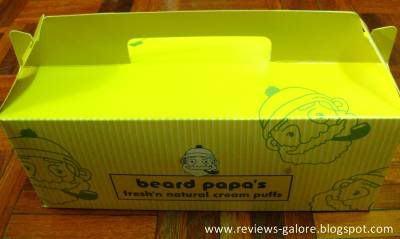 It's hard to find decent cream puffs in KL. Sometimes, there are those that are filled with floury custard
(yes, you heard me right – they mix in more flour into the custard to make it more solid)
and soft pastry, and other times, they're extremely sweet. This is not the case with Beard Papa cream puffs.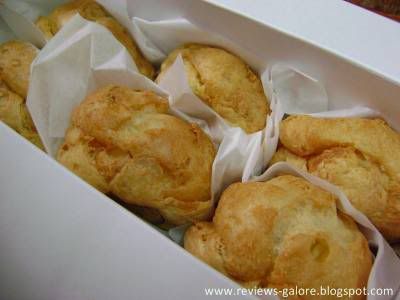 These were gotten from the Beard Papa outlet in Midvalley, which is their first store in Malaysia to open. Each crisp puff shell is freshly filled when you place your order, ensuring maximum freshness. After filling, the puffs are dusted with powdered sugar
(or chocolate powder or green tea powder depending on the flavor selected)
.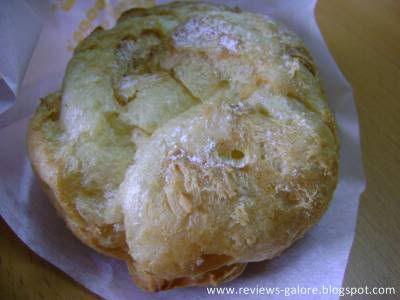 Each puff is then packed in its own thin paper case, which helps if you want to tuck into them on your way back. They're best eaten immediately as the cold creamy custard will literally seep into the airy softer layers inside to burst in your mouth. The puffs are supersized, and I mean HUGE. We're talking a puff the approximate size of your fist!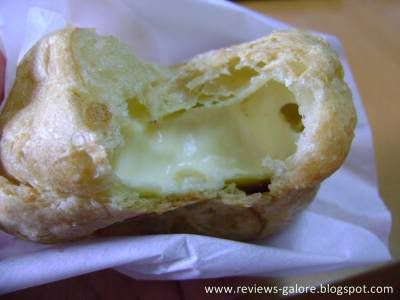 Oozey vanilla custard! Yum yum… :)
The reason I love these puffs so much is because the filling's very light and not too sweet. The amount of cream inside is also just right for the amount of puff available. Some people may say that the shell is a bit hard, but to me that just emphasizes the difference of texture between the shell and the cream filling.
There are vanilla, chocolate, green tea
(!)
and black sesame
(!!)
variants available, although I'll only eat the vanilla variant. Individual purchases are RM3.90 each, but if you buy a "value buy" box of 6, it's RM21
(up RM1 from the previous price of RM20 – probably due to the oil price hike!).
With every "value buy" box, you get a stamp on a loyalty card. These can be accumulated for a total of 10 stamps which are then redeemable for a box of 5 cream puffs of your choice.
Beard Papa has outlets at major shopping centres throughout Malaysia including Midvalley, 1 Utama (Old Wing), Pavilion KL, Sunway Pyramid and Queensbay Mall.

Rating: 4 / 5
Value: $$