Clinique finds…
Until now, I still cannot believe how cheap Clinique is in London. I'd been boycotting Clinique for quite some time, owing to the fact that they gave me some shitty service
previously
, and it's seriously EXPENSIVE in Malaysia.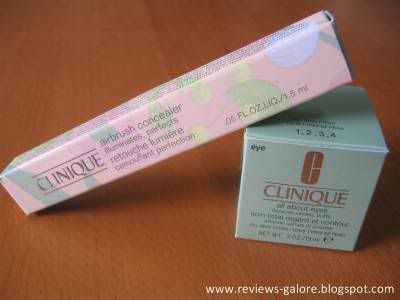 My TWO purchases…
However, when I was in Selfridges with Jackie, I couldn't get over how cheap Clinique was, not to mention the kind of promotions they had there. With every purchase of TWO items, you get a free gift set. I just picked up an eye cream and concealer, and just ended up with an entire pack of freebies.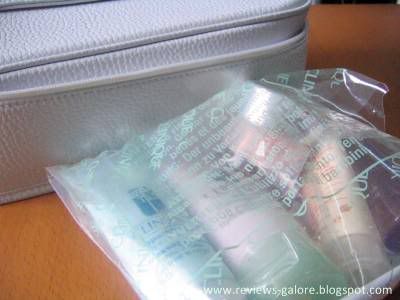 Can you imagine, I bought the All About Eyes
(£20)
and Airbrush Concealer
(£15)
for a total £35 purchase
(about RM220),
and I got this set. In Malaysia,
(okay, to be fair here, it's with all the higher end brands including Lancome and Estee Lauder)
you'd have to spend
at LEAST RM300-350
to get a 3 or 5-pc set of just 15-20ml sample sizes.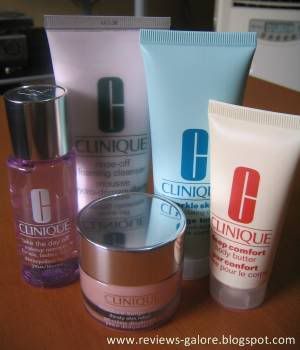 Take the Day Off Makeup Remover for Lids, Lashes & Lips
(50ml)
, Rinse-Off Foaming Cleanser
(75ml),
Moisture Surge Extra Thirsty Skin Relief
(30ml),
Sparkle Skin Body Exfoliating Cream
(75ml)
and Deep Comfort Body Butter
(40ml)
in a white makeup box.
Can you imagine? This is just so different from the kind of stuff they give away here. After this, I don't think I'll be going back to the Clinique counters in Malaysia anytime soon. Since I was running out of my moisturizer, I decided to give their Dramatically Different Moisturizing Gel as well
(another fab deal at £27 for 125ml)
so we'll see how these few products go. Full reviews will be coming up soon!