Clinique All About Eyes…
*sigh*…
you know you're getting old when you start seeing the under eye circles popping up after
(yet another)
late night
(and mind you, it's not because I'm out clubbing or partying!)
, so when I came across Clinique's All About Eyes at the Clinique counter at Selfridges in London, I knew I had to have it.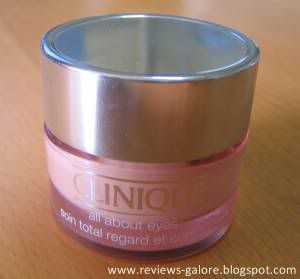 Description:
Clinique All About Eyes
is designed to target under-eye circles, shadows, lines and puffs. Special moisturizers and optical diffusers immediately diminish the appearance of under-eye circles and fine lines. A unique combination of botanicals, proteins and anti-oxidants works to fade the look of under-eye darkness, decrease puffiness and strengthen skin against environmental aggressors. Helps to extend eye makeup wear. This velvety, lightweight cream-gel is absorbed quickly.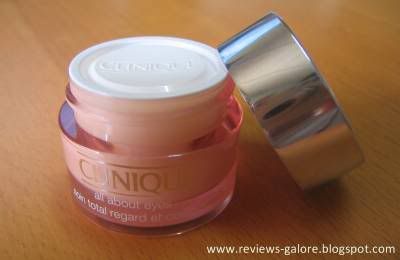 Directions:
Use morning and night, over the entire eye area. Wait a few seconds before applying eye makeup.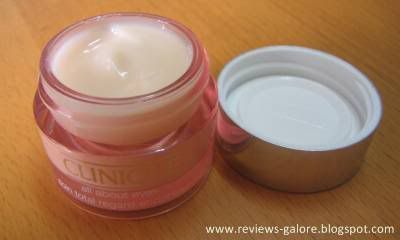 The Verdict:
First off, I must say I like how Clinique packages their products in sturdy glass containers – admittedly it's not quite practical to take when you travel since they're quite heavy, but from a totally frivolous point of view, they definitely
'glam up'
your dressing table. :)
Even though Clinique does not add fragrances to their skincare products, there was a faint scent when I opened up the jar – it wasn't fragrance, but still quite pleasant. The texture itself is very silky – I seriously felt like slathering it on like a body cream instead of just my eye area!
I've been using this twice a day ever since arriving back from London
(almost two weeks now),
and it has managed to diminish the look of my under eye bags quite substantially. It has also doubled up as a base prior to applying eye makeup, since it leaves the eye area feeling like velvet
(seriously!).
At a price of
£15.00
(approx. RM95)
for a
15ml jar
, it's a bit pricey but nothing compared to the price I'd pay for it if I was in Malaysia. However, you get your money's worth on this one, since just a small swipe is sufficient.
Would I repurchase this? Hmm…if I could get someone to provide me with a regular supply from London, why not? :)
(I've been boycotting the local Clinique counters for a while now since their service has been less than stellar)
But once I'm done with this jar we'll see – I estimate it'll take me at least 3 months to use it up.
Rating: 4 / 5
Value: $$
(only if bought in the UK)
Labels: eyecare