Cal Pep @ Barcelona…
Day One in Barcelona, we had some amazing tapas at this place called Cal Pep. There have been some good recommendations about this place, but my, you really have to try this place for yourself to believe it.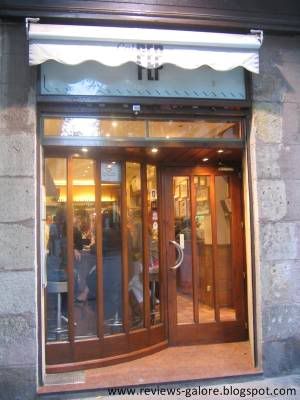 Cal Pep looks rather unassuming, but it IS one of the best places to eat in Barcelona. The place opens at 8.00pm
(yes, the Spanish eat dinner really late)
, and you'd better be waiting outside when they do, because there's only a limited number of seats available inside done in bar counter style.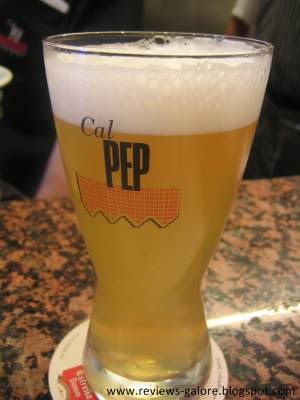 The Spanish really love their beer, so there's nothing quite like starting the evening with a glass of their Estrella Damm beer – I had a glass of the Lemon Damm: Cerveza & Limon, which is similar to a mixture of lemonade and beer…very light and refreshing…and cheap at €1.50 a glass!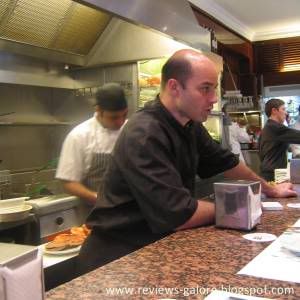 The help at the restaurant were definitely good – this guy was quite funny though. He came up, asked us whether we knew what we wanted. When we looked completely lost, he smiled, went "Recommendacion? Si?" and we simply let him order for us.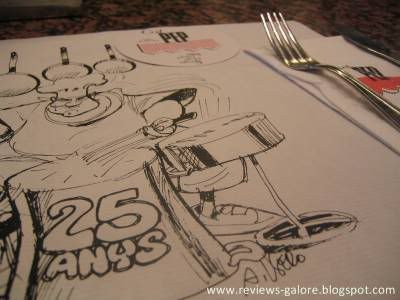 My verdict? Oh please, if you ever go there, PLEASE let Mario give you his recommendation…the food was just SO good, and PERFECT.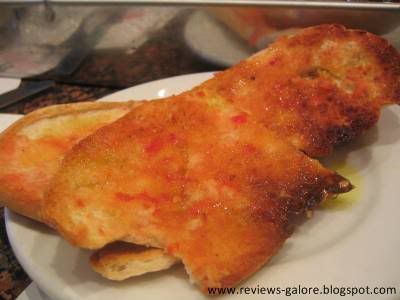 First up is the
Racio pa de Coca
(€2.65)
which is toasted flat bread rubbed with ripe tomatoes and drizzled with olive oil. I couldn't resist, and ended up taking a bite out of the bread before taking a picture!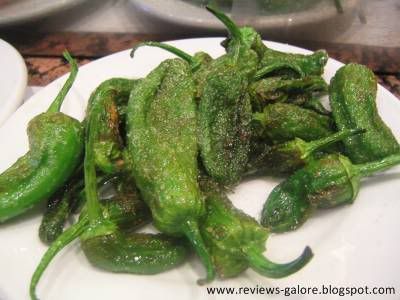 Next came the
Prebrots del Padro
(€4.70)
or rather, padron peppers. They look misleadingly like jalapeno peppers
(and they look spicy right?),
but they're actually really sweet and succulent, not to mention extremely popular in Barcelona. Think…green peppers deep fried and tossed with sea salt flakes – that's about the closest description I can come up with. Rather salty, but I could NOT stop after the first one.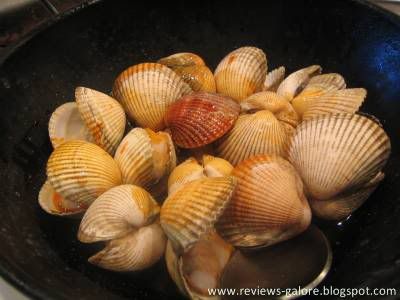 Okay, so I do have an allergy to certain shellfish, but still, since we were so near the port and it was REALLY fresh, we tried the
Berberetxos A L'Olla
, or clams stirfried in a smidgen of chilli and garlic
(€7.85)
I didn't have too many, but it was still good.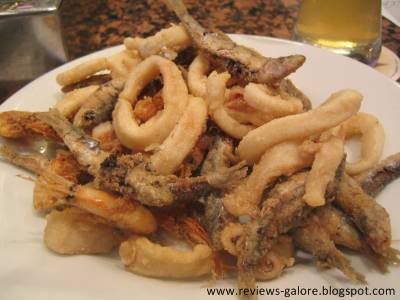 This was one of their specialities, the
Racio Trifasic Fregit
which is deepfried whitebait, calamari and shrimp eaten whole
(again, it's all deep fried…rather unhealthy, but I think I can overlook that just this once)
-
€12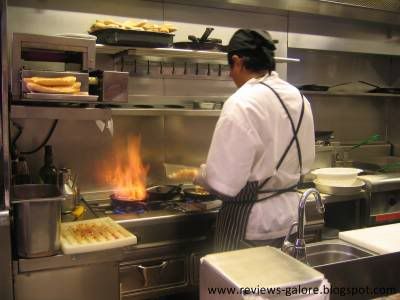 We figured out the reason that we sat bar counter style there was so that we could observe the staff in action, and you get a real first-hand view at the preparation, for sure.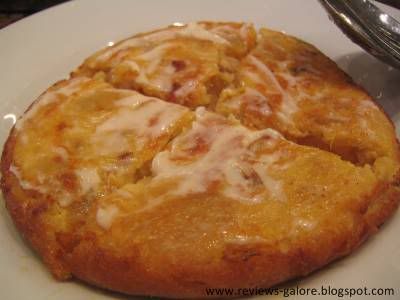 After the whole lot of appetizers, the so-called
'main courses'
came out. This is
Truita Trempera
(€6),
which is similar to a potato frittata with bits of bacon and cheese inside, and a squirt of mayo on the top…yum yum
(be warned, this one is filling!)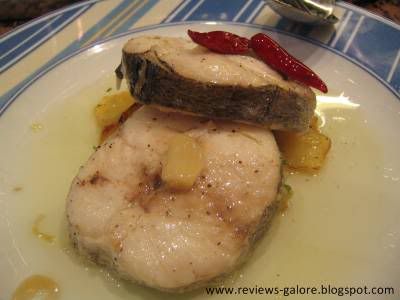 This fish dish was the last of the lot
(and the most expensive!)
-
Lluc a L'Espatlla
(€12.80)
– until now, I still can't quite figure out what kind of fish it was…it looked like cod, but tasted more like…snapper? Either way, the skin was still fabulously crisped with whole garlic cloves. Probably didn't help my breath any, but oh what the hey…
By the time we were through making our way through all those dishes
(mind you, it was only TWO of us eating all that!),
we were QUITE stuffed but they insisted we had to try their dessert – for lack of a better description, its foam. Yup, you heard me right – FOAM. We had a total of 5 different-flavoured foams/
Espumes
(€2.70 each!)
.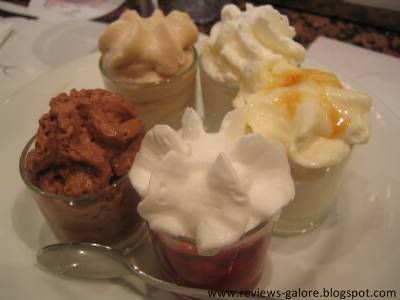 Clockwise from top left:
Coffee, Lemon, Crema
(which is similar to crème brulee)
,
Berry
and
Cocoa
. I LOVED the
Crema
and
Berry
ones in particular.
The grand total? Approximately €70 for two people. It might seem rather steep, but when you compare the prices of items in Barcelona, it's actually really decent for such good food. I'd really recommend you go check this place out if you're ever in the area. And if you want to bring me along as a guide, better still!
Cal Pep
Placa de les olles 8
Barcelona, Spain
Rating: 4.5 / 5
Value: $$$
Labels: food