Maybelline Color Wear Trio Eye Shadow…
I picked this up for RM5 at the recent L'Oreal warehouse sales, and recently got around to trying it out.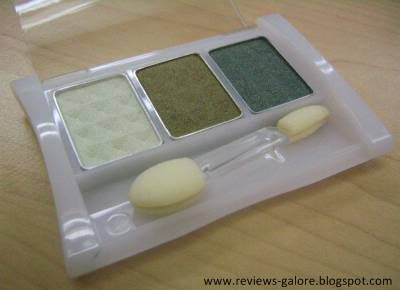 Description:
Three coordinated intense eye shadow colours that glide on effortlessly with superior smoothness. Maybelline Color Wear Trio Eye Shadow comes with a velvet-tip applicator for blending without tugging or pulling, and provides all-day crease-resistant wear.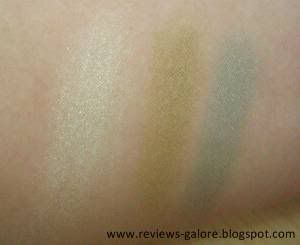 The Verdict:
Although I loved the selection in green shades
(#23 - A Leaf Life)
, the trio wasn't what I hoped for in an eyeshadow. The surface of the eyeshadow had these really cool prism-like designs cut in
(see the first pic)
, but rather gritty to the touch. I had to literally gouge my fingertip into the shadow to get any colour.
Applying it wasn't much better either – the glitter flaked off almost immediately, leaving me with rather shiny cheeks and more every time I blinked. In terms of pigment, the colour was very pretty but it took a bit of rubbing to pick up enough colour, so the usual soft eyeshadow brush I used had to be set aside, and I ended up using my fingers instead.
However, the staying power is definitely commendable, seeing as it lasted – crease-free – for a whole 6 hours. I'm quite surprised at the difference between Maybelline's eyeshadows, since some of them are very velvety-smooth, and others are coarse to the point of gritty. What's up with that?
Paint Me Gorgeous
did a review on the same eyeshadow, but in a different shade. Again, the experience was different…hmm…would I repurchase? If they come up with a new formula that omits the glitter and improves the texture, maybe. In the meantime, I think I'll stick to my
Kanebo
,
Body Shop
,
Bloop
and Revlon
(which I'll get around to in a bit!)
eyeshadows – the textures on those are simply VELVETY SMOOTH.
Rating: 2.5 / 5
Value: $
Labels: makeup