Make Up Store Microshadow…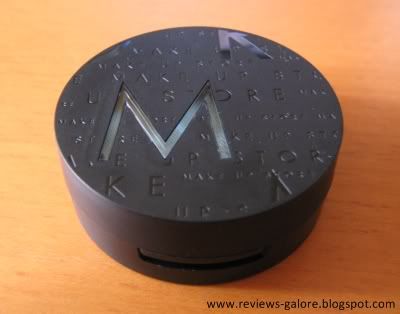 During my last visit to the Make Up Store in Gardens Midvalley
(by the way, if you're ever there do look for Natalie – she's brilliant!)
I got a microshadow in a very pretty pastel baby blue – Rodeo.
Description:
With Microshadow, the colour you see is what you get. The eyeshadows are highly pigmented and gives rich colour and a long lasting result. Blend it with Mixing Liquid for a waterproof make up or to get your favourite colour as eyeliner. Microshadow works perfect as a blush as well
(I assume they mean with the pink-red toned colours!).
Apply with brushes in different sizes.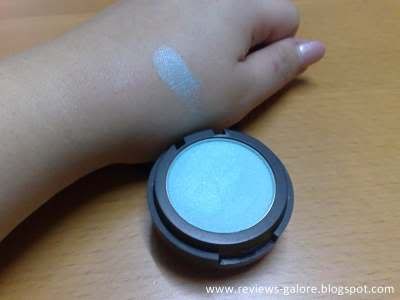 The Verdict:

As far as Make Up Store's ranges go, the Microshadow is just one of three different types of eyeshadow available. At first look, I liked that it came in a sturdy snap-shut case, with the trademark transparent 'M' that allows you to view the colour
(fyi, I hate it when I have to play guesswork with makeup because all the containers are sealed shut tighter than glue with no peep-hole)
.
Once I got past playing with the case (!), the texture was the next thing to strike me – it's remarkably soft and fine, but has excellent pigment – you only need a tiny swipe with your fingertip to pick up colour. To be honest, I never thought I'd like the look of baby blue on my peepers
(and a shimmery shade at that!),
but after trying this out with a slightly darker shade of blue from the Body Shop, I think I'm a convert. The Microshadow also has good staying power, seeing as it lasted a good 6 hours before starting to fade.
Surprisingly,
'Rodeo'
is not listed on the Make Up Store site, but it's been featured in several of their 'Step by Step' guides. Odd, innit?
At RM60, this is along the upper-range mark for eyeshadows, but you get what you pay for. The end result? I am in love, in love, in LOVE with this shadow. Now I've got my eye on the
Hyacinth
for my next Microshadow…any sponsors?!? :D
Make Up Store Microshadows are available at all Make Up Store outlets nationwide and retail at RM60.
Rating: 4 / 5
Value: $$
Labels: makeup