Korean BBQ Restaurant @ Plaza TTDI…
Thanks to a hankering for kimchi and all things Korean, we happened across this Korean BBQ restaurant named…well, Korean BBQ Restaurant! It was tucked away on the 3rd floor of TTDI Plaza, away from the bar and bistros on the ground floor.



The interior itself is lushly decorated with floral, wood and water elements, and is very spacious. Our table was tucked away in one corner, which had a fantastic view of…the building opposite, but also of the people passing by below.
Korean BBQ is done in quite a unique way – instead of picking all the dishes from the menu, you order only your selection of meat
(chicken, beef, pork, seafood, etc),
and the side dishes are all part of the package. Admittedly, this means that you'll be looking at rather steep prices of RM30-RM55 per dish of meat, but it has to be factored in accordingly. After all, you do get unlimited refills of almost 10 selections of side dishes…more than sufficient.
The coleslaw salad and fresh salad – didn't like the coleslaw, but the fresh salad disappeared almost immediately!



All the side dishes – I loved the kimchi
(extreme left),
the asparagus sprouts
(upper left),
seaweed
(centre top),
fried vegetarian patties
(upper left)
and this spicy ikan bilis-peanut mix
(bottom right)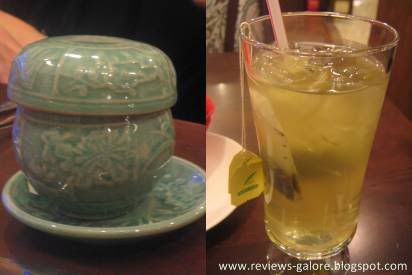 The selection of drinks isn't exactly fantastic, and tea is served by the cup instead of pot. The selection ended up as a split between the Ginseng tea, and ice Korean green tea. Apparently, my brother took a while to get used to drinking Ginseng tea, since he wasn't familiar with having to fish out dates (the dried kind!) from his cup (!!).

On to the main course – meat, meat and more meat!

Chadolbagi – Fresh Brisket
(RM50)


Saeng Galbi – Fresh Short Ribs
(RM58)

I loved the fact that we didn't have to lift a finger to BBQ the meat ourselves. There were two staff solely assigned to the table for the purpose of preparing the food. However, from this experience, the best size to go for this type of Korean BBQ would be 4-6 people, since you'll need to leave space on the end for the staff to do their thing.

Oh, and the meat was absolutely SUPERB – juicy, tender and melted in my mouth. The best combination was to take a piece of meat, roll it up in a salad leaf and dip it in the sauce provided…I'm drooling just thinking about it.


Marinated chicken
(I think it was RM35)
and Budae Zzik – A spicy stew of chicken sausage, kimchi, cheese and ramyun
(RM70 for the small version)

It's wise to err on the side of caution when ordering the meat, because those are priced on standard portion, regardless of the number of people you have. You'd have the same amount of meat for RM55 if you have 2 people, or 10 people – also a good reason to bring more company when you eat BBQ so that you can try more dishes! Besides, you can always order more if you want, but can't ask them to uncook it if you've ordered too much, right?

For dessert
(which was also complimentary btw!),
we had a Korean version of Ice Kacang – shaved ice mixture with a mix of condensed & evaporated milk. You can opt to have it with or without the red bean
(I personally don't like red bean, so I had it without).
It was a little bit *jelak* sweet, but a nice cap to the meal.
I must say, this restaurant came with some very cute features…just check these out!

Toothpick case
Paper napkins
I'd love to go back there. Although the price was a bit steep
(about close to RM400 for 5 of us),
it was still really good food and you get your money's worth
(on par with the Daorae restaurant in Hartamas, but a bit more high class).
Of course, now with the price hikes and rates going up, who knows? However, if you're looking for good food and service, do give them a try.
Korean BBQ Restaurant
3rd Floor, TTDI Plaza
Opens Mon-Sat: 12-3pm, 6-11pm
Sunday: 6-11pm

Rating: 4.5 / 5
Value: $$
Labels: food