Body Shop Almond Oil Nail & Cuticle Treatment…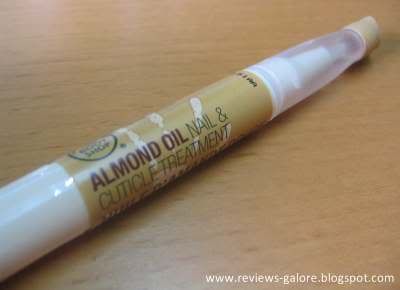 Description:
This portable cuticle pen features a brush applicator and lid that functions as a cuticle pusher. The natural ingredients in this treatment help protect nails from splitting and breaking. Ingredients include:
Sweet Almond Oil – Provides essential fatty acids that help to repair skin's moisture barrier, thus helping to restore moisture, smoothness and suppleness.

Organic Olive Oil from Italy – Helps to condition skin.

Vitamin E – Conditions, nourishes and protects the skin, leaving it soft, smooth and healthy.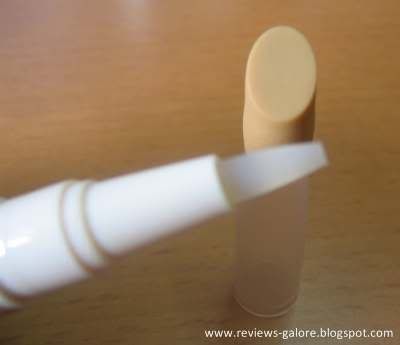 Directions:
Twist the base to release the desired amount of treatment into the brush and apply to nail bed and cuticles. After treatment has penetrated the nail bed (approximately 10-15 seconds), gently use the cover of the treatment pen to push back cuticles.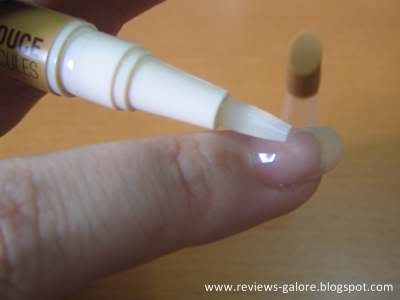 The Verdict:
I bought this during the sales since I couldn't stand the fact that my cuticles always end up looking like something a grizzly bear would have. What can I say – my nails are fine, but the skin around them is a completely different matter.

As luck would have it, this has a almond smell, but after being mixed with the olive oil and vitamin E, it's OKAY, but not that enticing a smell to have. Then again, this is going on your fingers, not your nose, so it doesn't bother me too much.

Results-wise, it's not bad. I haven't used the cap to push back my cuticles as I don't have any to push back anyway – they've been trained by my manicurist! Instead, I just wait for the oil to settle in slightly, then rub the remainder into the nail bed and surrounding area. This works well for me, as I not only moisturize my nails and fingertips, but improve the circulation in them as well.

The pen makes applying the oil a breeze…the treatment flows directly into the centre of the brush for easy application, and there's no mess. However, it takes a while for the treatment to flow into the brush, so if you're a bit overzealous twisting the base, you might end up wasting quite a bit.

Also, the other bad thing about this is that there's no safety mechanism to stop the base from being twisted when the pen is capped. You may just very well end up accidentally twisting the base while the thing is closed, and then what? For people like me who carry these items in their handbags, this spells a potential disaster (I'd liken it to losing the cap off your lipstick – a brand new lipstick, the kind that sticks out of the tube) and I'm sure we're all aware of how difficult it is to clean oil-based stains off fabric, or worse, LEATHER.

However, those minor defects aside, the treatment does all it claims, so I'm in rather a mixed mind about this. On one hand, I have not had any problems with dry skin around my nails since using this, but I've also been running the risk of having it leak in my bag by carrying it around with me. I guess I'll see what happens when I finish this round. If you've tried this and have any tips, I'd love to hear from you!


The Body Shop Almond Oil Nail & Cuticle Treatment is available at all Body Shop outlets nationwide.


Rating: 3.5 / 5
Value: $$
Labels: nail products