Yogur Berry @ Sunway Pyramid…
While I was checking out the new wing at Sunway Pyramid
(yes, very behind time I know, but what to do…I don't go by that area very often – and it's HUGE!)
, I chanced upon the
Yogur Berry
outlet. Quite hard to miss with its bright pink storefront.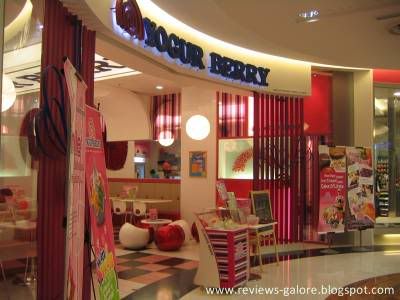 See what I mean about the pink…but it's quite cool isn't it?
I loved what they did with the interior…especially the booth seats!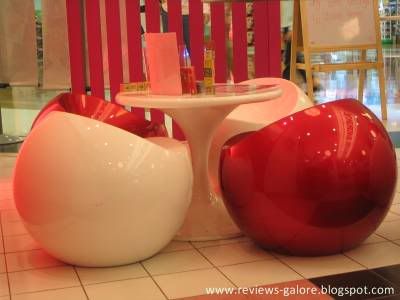 They even had special seats for the kiddies
(if I could have sat there without looking like a total doofus or breaking the chairs, I would have!)
Yogur Berry's
'hot seller'
would be the frozen yogurt…basically pay per what you order, per serving of topping. We ordered a double scoop of the Frozen Yogurt Ice Cream
(RM12.00)
with Mango
(RM1.05)
, Peach
(RM1.05)
and Fruit Cocktail
(RM1.05)
. There's also Snow Yogurt available, which I didn't try but it's more expensive than their original frozen yogurt.
While waiting for our order, I noticed there were quite a lot of games lying around. Turns out that you can actually play with them while you're having your ice cream…quite a cute concept, no? They had the usual Uno cards and Games Compendiums and this…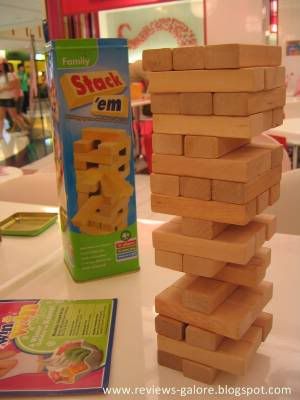 I dunno about you, but I used to call this Jenga…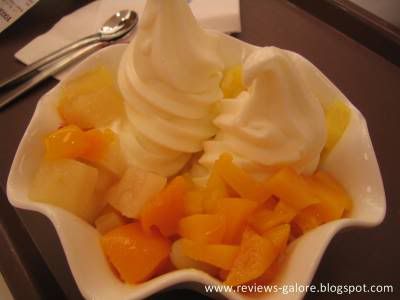 This was what our order looked like…so nice. To be frank, the frozen yogurt tasted like…Vitagen? The white bottle one…hmmm…but it was super yummy at any rate.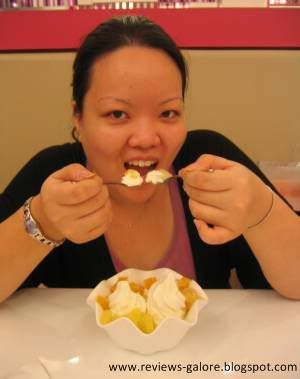 Glutton me…so greedy I had to have two goes at once!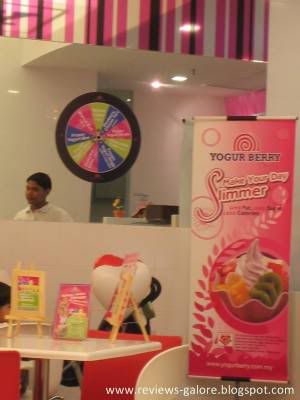 As a promotion, every order above RM10 gets a try at this cute dart game, which allows you to win something for free. The items on the board range from a slice of pumpkin cake to a frozen single yogurt with three toppings
(valued at approximately RM10 or so).
Best part is, you can either redeem it then and there, or on your next visit – great if you don't go there often
(like me!)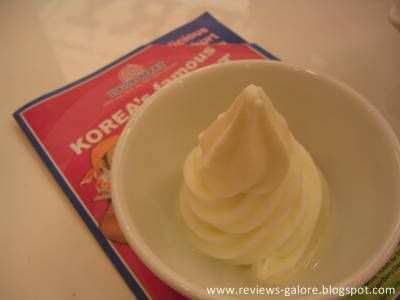 We got a Mini Frozen Yogurt (RM4.90) free! *goes mad over all the frozen yogurt…brain freeze*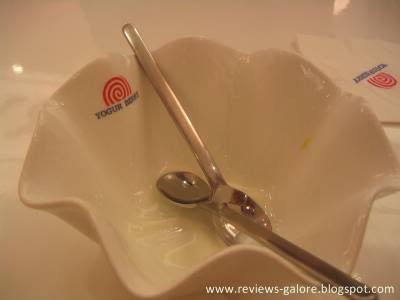 How about the actual taste of the ice cream? Quality? Well, the picture above should tell you all you need to know…scooped CLEAN!
I'd definitely go back there, just for the ice cream…it's super yummy…think frozen Vitagen with fresh fruit…mmmm…the prices are a little bit on the steep side for ice cream especially when the toppings are separately charged, but it's not half bad for what they're offering.
Yogur Berry is located at LG2-135 in Sunway Pyramid Shopping Mall. You can check their
website
for more locations.

Rating: 4 / 5
Value: $$