Sally Hansen Double Duty Strengthening Base & Top Coat…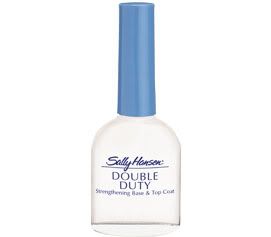 Description:
Strong, Shiny, Chip-Resistant Nails – this all-in-one patented strengthening base and top coat works double time for double protection. As a base coat, Double Duty moisturizes and hydrates nails with Panthenol. As a top coat, Double Duty protects with Nylon. Nails are shielded with a hard, shiny, chip-resistant finish. Salon Tested - Dermatologist Tested.
Directions:
Shake gently. First apply to clean dry bare nails as a base coat and let dry. Brush on 1-2 coats of your favorite Sally Hansen protective nail color and let dry. Finish with Double Duty as a protective top coat.
The Verdict:
First off, I don't agree with the directions when it says to 'shake gently'. I've had heaps of problems with bubbles in my nail polish when I do that. Instead, I've found that turning the bottle upside down and rolling it between your palms is a much better alternative.
However, as far as the product itself goes, when it says double duty, Sally Hansen really means DOUBLE DUTY – this is great for wearing out on its own, and lasts simply ages without getting scuffed. Just one coat isn't enough to give you a nice sheen though, so it's better to use two. One of the key things I love about this is that it dries super fast, which means I don't have to sit there waiting for my nails to dry.
Believe it or not, I actually applied two coats on my nails, and three minutes later I'm happily banging away at my keyboard – not a mark on my nails. Not to mention that my nails are much tougher when I'm wearing it (
I usually have quite bendy nails, but still stubbornly a vainpot at trying to grow them out!
)
The only thing that's a real downer for this product is the price – while other low- to mid-range nail polish brands are going at RM10-RM18 per bottle, this is easily RM20+, if not more (can't remember the exact price – can anyone help?). I'd expect to fork out for something like OPI or Guerlain, but not Sally Hansen. Then again, if it's that good, I guess that's why they're pricing it at a premium
…*sigh*…
my advice? Wait for it to go on sale, or hunt around for their warehouse outlet (if there IS one).
Rating: 4.5 / 5
Value: $
(Sally Hansen just keeps getting more and more EXPENSIVE by the day)
Labels: nail products