My Silk Naturals package is here!!
Thanks
(or rather no thanks!)
to
Tine
, I caved in and ordered a bunch of samples from
Silk Naturals
after reading her post. Today being a public holiday, I went on an overnighter with some friends last night, and came back to find this package waiting for me…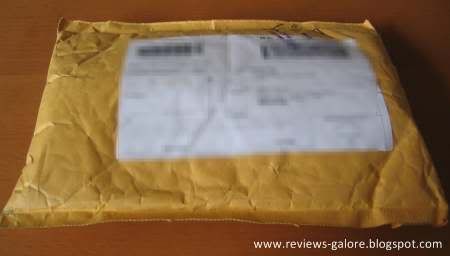 I was very pleasantly surprised, as I'd only placed my order on 22 April, and seeing as how Tine has just only gotten her order (she placed her order earlier than mine)? What's more Malaysia is infamous for its S-L-O-W postal service, so I wasn't expecting it for another week at least. But who cares? It's here!!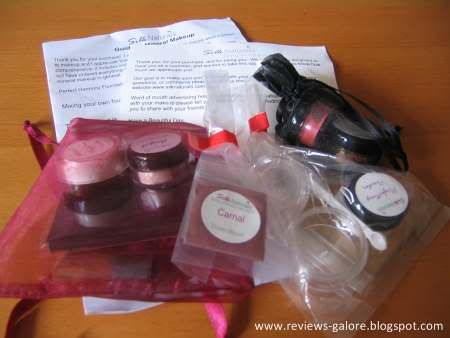 Everything was neatly packed into separate bags or plastics to contain possible spillage…and I love the little organza bags as well.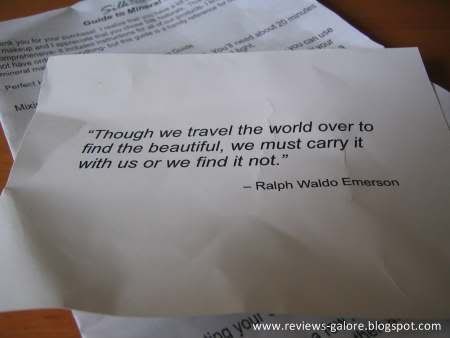 The package came with a complete instruction sheet, as well as a little card with a quote that I thought was quite cute. Definitely one of those 'feel good extras' that made the experience a little more enjoyable.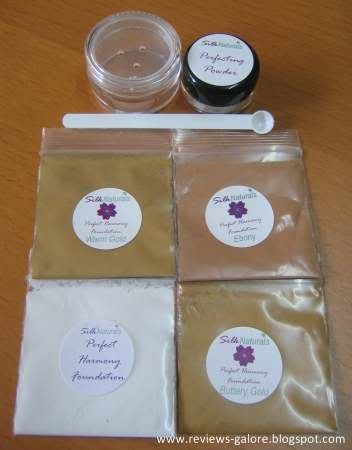 This is the intro foundation and finishing powder sample kit – it contains the following items for creating a personalized foundation to match your skin tone (I can foresee many hours ahead fiddling with this!):
1 teaspoon of white foundation

1/2 teaspoon of each base color - ebony, warm gold, and buttery gold

Empty 10 gram jar for mixing

1 measuring scoop so you can repeat your recipe

5-gram sample of Perfecting Powder

Full instruction sheet- complete with recipes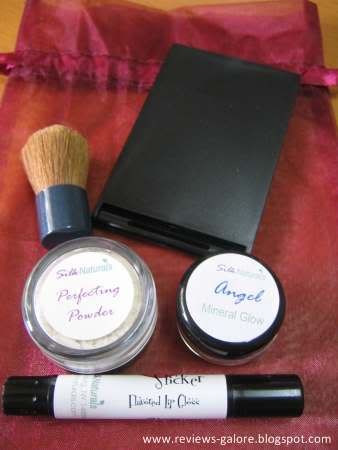 'Glow to Go' kit – this came in a pretty burgundy organza bag, and contained a 10-gram jar of Perfecting Powder, an Organic Clear Lip Gloss (which smells quite fab), a 5-gram jar or Angel mineral glow, a travel mirror, and a "newborn" size goat bristle kabuki brush. I'm quite taken by the kabuki brush seeing as it's so tiny and cute (definitely easier to get the powder out from the sifter jars than using normal sized brushes!)


Sheer Blush in Lovelace and Mineral Glow sample in Halo (also in a little black organza bag)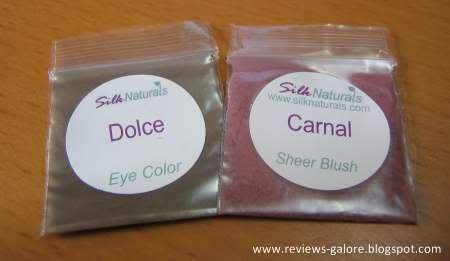 I also got two additional samples – the Eye Color in Dolce and Sheer Blush in Carnal. Very pretty colours… :)


Now the not so nice part: the mirror in the 'Glow to Go' kit as well as the two measuring scoops I ordered came damaged (the mirror was cracked all the way down the center) despite the bubble wrap. To be fair, it could have happened during shipping, so I've already written back to Silk Naturals on this and we'll see what happens. Will update during the next review. Don't go anywhere now…
Labels: makeup, tips n news