L'Oreal Exfotonic…
I used this product when it was first launched back in the early 2000s, but for some reason it disappeared off the shelves about a year back. However, it recently made a comeback to our local pharmacies, so now's a good a time as any to list a proper review to do it justice.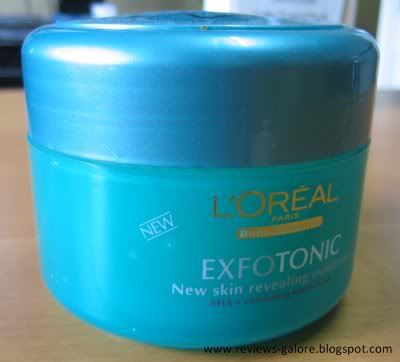 Description:
The L'Oreal Paris Body Expertise Exfotonic New Skin Revealing Exfoliator gently and effectively exfoliates and smoothen skin texture with the thanks to exfoliating micro-beads and AHAs that stimulates cell rejuvenation.

Exfotonic has a skin tingling granular texture that transform the routine into a moment of pleasure. Exfotonic also has a deliciously fruity smell; floral fragrance combining green tea with the mouth watering aroma of fruits of the forest – for a pleasurable experience. Day after day, the texture of your skin is revitalised, and acquires a new and invigorated texture. A skin like new; after applying Exfotonic regularly your skin becomes soft, velvety and toned.

Directions:
Apply using circular movements starting from your feet and working your way upwards (you're massaging up towards the heart, which helps to increase circulation). The scrub should foam very slightly. Rinse thoroughly and apply moisturiser afterwards. Recommended use is once to twice a week.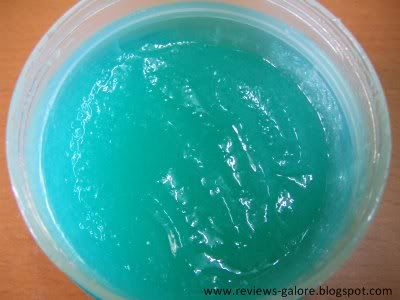 The Verdict:
First things first, don't let the colour scare you – it won't leave you green (!!). The scrub has a very cool, fresh scent which I like, with a gel containing exfoliating
'micro-beads'
which looks and feels more like granular sea salt to me. The tub design is also a good option, since it allows you the ease of scooping out as much as you need without having to squeeze messy tubes – there's also minimal wastage this way.
The first time I used this, it felt like I was scrubbing with coarse sand, so if you're a first time user, please don't rub too hard or you'll end up with rather raw skin
(and in the name of common sense, please do NOT use it on your face)
. However, it does do all it promises, left me with very nice smooth skin - and I've been using it ever since. Those with sensitive or mature skin may want to give this a miss though, since it IS rather abrasive, but otherwise ranks pretty high on my scale compared to some of the other body scrubs I've tried.
This product would be particularly good for brides-to-be wanting to reveal evenly toned, glowing skin on their wedding day since it not only reveals softer skin but also improves circulation and evens out skin tone (by sloughing off the dead skin cells). Of course, if you're not getting married anytime soon, this is also perfect in preparation for a big night out or just because you want to look good, which is a valid reason as any, right?
One tub on a twice weekly usage can last you 2-3 months, which is pretty good. I managed to pick up a bunch of these at a bargain RM20 during the warehouse sales, but the normal price is quite decent. They tend to disappear off the shelves quite quickly though, so you might have to hunt around a bit if it's sold out at your local outlet.
L'Oreal Exfotonic is available at most Guardian and Watsons outlets, and retails at RM34.90 for a 200ml tub.
Rating: 4.5/ 5
Value: $$$
Labels: bodycare