False alarm…? :D
Okay okay, so I'm having a little wordplay here…but honestly, yesterday was the first time I'd ever tried using a full set of false eyelashes for a photo shoot (usually it's been individual lashes glued on to the corners).

And yes, I was quite alarmed about it because for some odd reason, the lashes just refused to glue properly to my eyelashes, dammit! The makeup artist had to keep pressing the lashes on at the corners, and then it was so heavy that the ends dropped down, making it hard to open my eyes properly.

But to cut a long story short, the whole thing was finally sorted out, pictures were taken…and I had a set of falsies to wear for my night out! Apologies in advance if the pix aren't very clear – this one all one-woman show ya?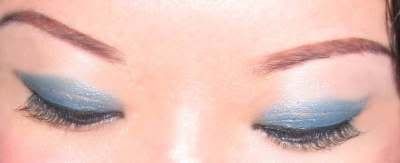 With closed eyes – the eyeshadow was a greeny-blue colour…and I have Paris to blame for my sudden addiction to all things green (!!) And don't worry…my head was tilted slightly to one side when this picture was taken, not that my eyebrows are
'senget'
(translated: lopsided)

Open eyes – now you see the full effect…albeit quite subtle. Locked, loaded and ready for the kill
(heehee!)
It was quite fun batting my eyelids once the glue had
(finally)
set, and I definitely needed initial multiple rounds with an eyelash curler to keep the darn things from flipping into my eyes. That said, I can now see why some people are obsessed with it – it literally makes your eyes go
"BOOM"
, especially with a defined line of black eyeliner…very Morticia. :)
The result? I bought a trial set from Elianto in an attempt to recreate the look (rather obviously, I liked the effect). Will let you guys know how that goes!
Labels: makeup, tips n news