Dr Murad Energizing Pomegranate Treatment…
Further to my previous review of
Dr Murad's Energizing Pomegranate Cleanser
, I decided to try the Energizing Pomegranate Treatment as well. What can I say…the pomegranate smell got to me. :)
Description:
This dual-action treatment invigorates with a performance-boosting gel (pink) swirled with a skin illuminating cream (white). It contains Murad's powerful Energizing Pomegranate Complex, a blend of artemia to help stimulate healthy cell function for vibrancy and tone, and pomegranate antioxidants to help defend your skin, giving it a healthy glow.
Additional features include:
Gel phase features kelp to tighten and firm skin

Cream swirl illuminates skin, leaving it radiant and glowing

Natural Copper conditions and smoothes

Sodium PCA and zinc hydrate and condition to leave skin soft and smooth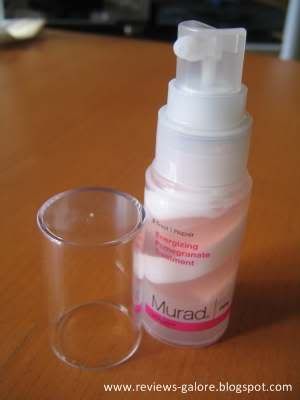 Directions:
Cleanse skin thoroughly before application. Massage evenly over face and neck up to two times daily. For optimal results, follow with Energizing Pomegranate Moisturizer SPF15 (optional).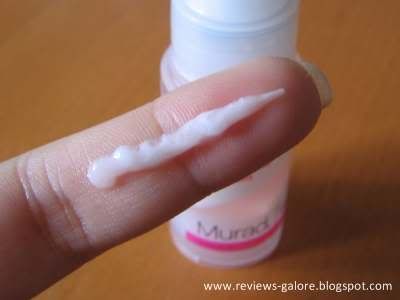 The Verdict:
I must admit, the pink and white swirl first caught my eye about this product. However, on first pump of the bottle the treatment has a nice, almost silicon-like texture which was absorbed almost immediately into my skin. A normal application for me usually takes two pumps of the treatment, which lives up to its 'energizing' claim – once you get a whiff of the pomegranate scent, you'll be completely floored. A couple of minutes into application, my skin felt moisturized with a smooth surface. At this point, I usually opt for an additional moisturizer with SPF, or apply foundation if I'm headed for an event.

After using half a bottle over six weeks (while retaining my normal skin care routine), I found that my topmost skin layer has somewhat filled out. Not that I have that bad wrinkles to begin with (nor have I put on weight, thanks for asking), but there's definitely an improved texture. I don't have to apply as much makeup as well compared to previously, which is a big plus.

On the whole, it's a very compact treatment that's giving me the desired effects. There's also minimal wastage with the bottle as the base can be pushed up as you use the treatment. The only gripe about this product is that it's unbelievably pricey – RM180 for just 30ml! This is almost on par with the über expensive brands like La Mer.

Although this little baby is performing at its prime for my skin, I'd have to reconsider paying that much for a bottle that lasts me about 3 months on average (and that's just with one application in the mornings!). I'm now accepting offers to get me another bottle...anyone? Pretty please? Oh well...


Dr Murad Energising Pomegranate Treatment is sold in bottles of 30ml and retails for approximately RM180.00. In Malaysia, you can purchase it at any CN Health & Beauty outlets.


Rating: 5 / 5
Value: $
Labels: skincare