Promo: The Body Shop Guarana Lip Butter
Contributing to a good cause doesn't mean you have to sacrifice your beauty purchases…The Body Shop and MTV recently launched their
"Move Your Lips"
campaign with a new
Limited Edition Guarana MTV Lip Butter
.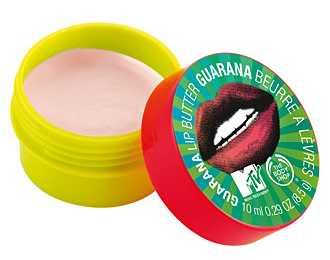 Description:
A rich intensive moisturizer for the lips with stimulating guarana extract. Melts onto the lips to prevent dryness and to leave them feeling lusciously soft and smooth. Preservative free.

Key ingredients in the lip butter include…
Guarana extract – Paulinia cupana seed extract, also known as guarana extract which restricts capillaries and reduces dark circles

Shea butter – Moisturises and helps soften the skin

Organic beeswax – Moisturises and helps to condition the hands and dry skin around nail beds. Acts as a barrier that helps to seal in moisture, and helps to keep product texture consistent, when used over time
All proceeds from every Guarana MTV Lip Butter sold will go directly to the MTV Staying Alive Foundation, which supports young people and youth groups worldwide to challenge stigma and discrimination associated with HIV/ AIDS as well as create awareness, educate and host prevention campaigns.


A 0.3 fl oz pot of Guarana MTV Lip Butter retails at RM26.00 and can be found at Body Shop outlets nationwide. Similar promotions are being run globally as well, so check out their website for more details.
Labels: makeup, promos, tips n news, try it