Origins Peace of Mind® On-the-spot relief...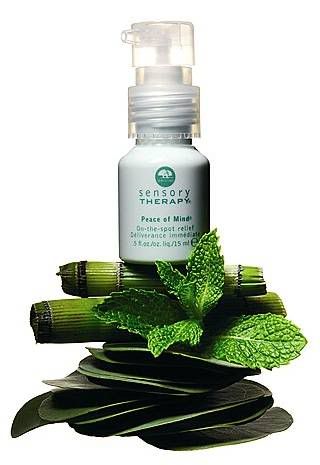 Origins' Peace of Mind® On-the-spot relief
is one of the products I regularly use for headaches or lethargy in the office (good for the days you're pulling all-nighters to get work done!). I was first introduced to it in Singapore when my cousin got one for Christmas, and have been a firm follower ever since.
Description:

When the world closes in on you and your head feels a size too small, apply just two dabs of Origins mind-clearing formula on the back of your neck, temples and earlobes. You'll feel a tingling sensation as pressure, tension and tightness begin to melt away.
Directions:

Place three small dabs on fingertips. Take a deep breath to experience Peace of Mind®'s stress relieving aromas. Massage into the back of neck, earlobes, and temples (closer to the hairline than to eyes.)
Verdict:

I love the peppermint smell! Each time I use it, I can literally feel my shoulders ungluing themselves from my ears. There's something to be said about the power of aromatherapy, as it usually takes a rather (painful!) firm massage to ease out the tension knot in my shoulders. However, the minty smell applied to your temples also means that it's quite close to your eyes. This may cause a mild tearing for those more sensitive to strong smells. But then again, that's a good excuse to just lean back and close your eyes for a while to let the Peace of Mind do its work.

Origins' Peace of Mind® On-the-spot relief retails at RM44.00 for a 15 ml bottle, which should last you about 4-6 months (longer if you don't use it everyday)


Rating: 4.5 / 5
Value: $$
Labels: aromatherapy