Natio Moisturising Shampoo…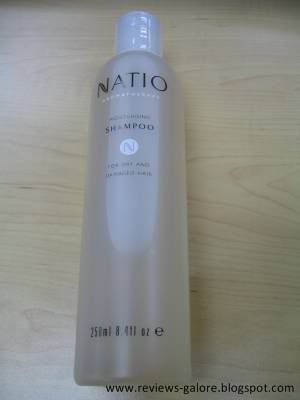 While I was at
Sasa
recently to pick up some items for a colleague, I saw this brand and decided to give it a try. Natio is an Australian brand that has been around for the past 75 years, and prides itself on creating plant based beauty care ranges specifically designed for contemporary lifestyles.
The product I tried was the
Moisturising Shampoo
, made for dry and damaged hair (I'd run out of shampoo, and my hair was looking a bit lackluster to say the least!).
Description:
A blend of botanical extracts to purify hair and scalp while providing deep nourishment and natural moisture balance. Softens and helps to repair damaged and frizzy hair. Recommended for hair overexposed to sun and wind or harsh chemical treatments. Mild enough for frequent washing.
Directions:

Simple enough – just use it as you would any liquid shampoo. Preferably followed with Natio Botanical Conditioner, but it's not really necessary.
Key Ingredients:
Chamomile to soften and tone.

Nettle to nourish, tone and eliminate dandruff.

Yarrow as a mild astringent.

Rosemary to promote lustre.

Sage to purify and clean.

Birch to strengthen.
First off, this shampoo is part of their aromatherapy range, so you get a really lovely scent in your hair during and after washing it – couple that with a warm shower, and you've turned your bathroom into a mini aromatherapy session. The shampoo also doesn't lather up massively, which may give the impression that it's not doing its job, but in reality your hair will be at optimal level afterwards, so resist the urge to re-wash your hair until it's squeaky clean.

What I particularly like is the fact that you don't have to use a lot of it to get the job done – for my waist-length hair, I only needed slightly more than a tablespoon's worth. This is probably best since it costs RM26 per 250ml bottle (by comparison, I can get a 500ml bottle of Sunsilk for less than RM20!). The Botanical Conditioner would be good to use together, but isn't really necessary as this product gets the job done on its own.

Additionally, Sasa's having a promotion where if you spend over RM68.00 on Natio products, you get a Shine Limited Edition Clutch bag and some products free in a set.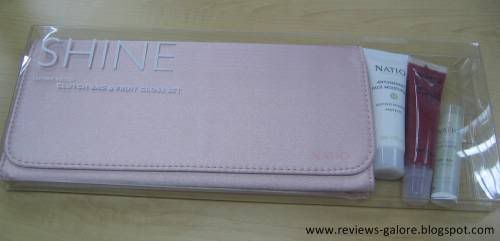 The gift set's quite presentable, can be given as a gift if you want…



They give three products with the clutch bag – a 20ml tube of Antioxidant Face Moisturiser, a 15ml tube of Cherry Ultra Shiny Fruit Gloss and a 4g (standard size) tube of Moisturising Lip Balm.

Out of the three free products, to me only the lip balm is pretty good – the fruit gloss scent is a bit overpowering (even if the gloss has a lovely texture), and I didn't quite like the smell or consistency of the Antioxidant Face Moisturiser, so it's not going anywhere near my face. The pink clutch is not bad though – quite passable for a gift premium. I believe this promotion is while stocks last, so if you want one you'd better hurry.

Natio Moisturising Shampoo retails at RM26.00 for a 250ml bottle and is available from all Sasa outlets.

Rating: 3.5 / 5
Value: $