My Makeup/ Skincare Don'ts…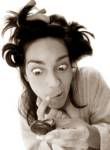 Tine tagged me on this post a couple of weeks ago, and I haven't quite gotten around to doing it (my bad!) until now. Personally, I must have been the 'trial and error' queen of my time…you see, my mum never wore much makeup, and is more of a "beauty's on the INSIDE" advocate, so you can imagine I didn't get much input from that side growing up! :D

That said, that just means there's more interesting stuff to share here, so here it goes…

My Five Must-NOT Have Items
1. Coconut oil in my hair – yes, I know it's supposed to work wonders, but the smell just makes me nauseous. Plus the fact that you smell like an Indian afterward (this is NOT in any way intended to be racist…many Indians use coconut oil in their hair on a daily basis…how do you think they can grow manes that long??)

2. Dove Shampoo – my hair just feels lank and weighed down after using it, and it just smells too 'body lotion'-ey for my taste, if you know what I mean. For some reason, I've never liked any of Dove's products…maybe it's just a body chemistry thing.

3. Nail Polish – I realized that I've amassed a huge collection of nail polishes over the years…but when it comes to how many times I've actually USED them, it's just so not worth it (plus I'm not the kind of girl that can sit still waiting for the polish to dry!). You can imagine how bad it is when one time I decided to wear this particular colour that I hadn't opened since the day I bought it, only to find the polish had separated and dried up. I think I'll stick to the shades at the manicurists from now on.

4. Correction base – those little tubes/ pots of green base meant to disguise redness just don't work for me! I don't know if it's the way I'm using it, or my skin can't take it (probably the latter, since it also reacts badly when applied by the professionals!). Thank God I don't have much need for it nowadays…*touch wood*


5. Pastel matte shadows – it ends up looking like clown makeup. I prefer shades with a hint of shimmer or iridescence. Of course that shouldn't go to the other end and have nothing but glitter in it! As for the pastel shades, it just doesn't work with my skintone.


My Five Biggest Makeup/ Skincare Crimes
1. Picking at zits and blackheads – this is such a bad thing to do. I'm thankful that I haven't ended up with permanent scarring, considering the amount of poking and squeezing I've done! My face is always red for ages afterwards, and now I'm on a search for the perfect pore-shrinking serum…*sigh*

2. Neglecting the skin on my legs / feet – I'm pretty good when it comes to applying lotion on my hands and arms upwards, but heinously bad at taking care of the skin on my legs and feet. Sad to say, the only time I religiously rub in cream is when the skin starts cracking, and that only lasts until the area's healed. My poor poor feet…

3. Overcleansing – this is a BIG BIG BIG NO NO!! I used to clean my face until it was so tight, smiling was a problem. Left me with flaky patches of skin at one time too, all in the name of NOT wanting a shiny nose…see how naïve I was back then?? *ARRGGHH*

4. Subconsciously frowning – my dad does this ALL THE TIME, and he's now got a permanent cleft in between his eyes. ARRGGHH!! STOP IT STOP IT!!

5. Picking at the skin around my nails – it's a nervous subconscious reflex. Very bad, especially after a manicure and all, but in stressful situations, you'll need to standby with a pack of plasters as I'll literally pick at the bits of skin around my fingernails until it bleeds…not a pretty sight. If you see me do it, please smack my fingers!


So there you have it, my hall of beauty shame...hoo boy… :D