Most Unimpressive Customer Service…
Further to my previous post on
Clinique's Attracted to Colour Makeup Workshop
, I was MOST UNIMPRESSED by the promoter at the Jusco Midvalley counter! Extremely unprofessional, not product savvy and not helpful at all!
*grrrrrr…*
When I went to the counter this afternoon, the promoter started out by asking me what I wanted to do –
"You want do foundation lesson or eye, or makeup?"
(as you can see, her English left a lot to be desired) and actually WALKED OFF to see to another potential customer! Like hello? There's another promoter just sitting there, and you have to walk off? With not as much as a
'Excuse me'
or
'Sorry'
?
*fume*
After figuring out that she meant "Do you want a lesson in applying foundation, eye makeup or makeup overall", I decided to try the eye makeup portion.
Then she started with this extremely long barrage of questions
(CP = Clinique Promoter)
:
CP:
What colour?
Me:
Ermm…maybe something natural…beige/ brown maybe?
(you have to remember, this is in the middle of the afternoon!)
CP:
Ok ok…
(goes off to take several items and comes back)
…so you want recreate or step by step?
Me:
Huh?
CP:
(exaggeratedly)
You want recreate look one eye, or step by step you follow me?
Me: Step by step is fine.
To tell the truth, I was really getting rather pissed off by this time. She then proceeded to gunk up one eye, telling me repeatedly to
'shut both eyes'
. Hello? If I've got both eyes shut, what freakin 'lesson' is this? I'm supposed to just re-create the look by looking at your work is it? Not to mention that she was quite LESS THAN gentle with the application.
The scary part came when she wanted to apply mascara on me – I had to tell her specifically not to use the same mascara brush (which looked extremely scary with rather a lot of gunk), and insisted that she take out another sample tester, or not apply mascara on me at all, to which she rather sullenly took out a new brush. (You'd think things like this would have been drummed into the promoter's head before they started work!)
Anyway, long and short of it, this was the result:

I look like a blinking war casualty! The eyeliner was uneven (particularly on the lower lash line), the darker shade (which is not entirely visible in this picture) made me look like I had bruises, droopy eyes (which I don't actually have!) and don't even get me started on the spider eyelashes.

The only upside? The two free treats – a travel sized Take the Day Off Makeup Remover for Lids, Lashes & Lips, plus a travel size of Fresh Bloom Allover Colour in Peony (according to her, they only had one shade available)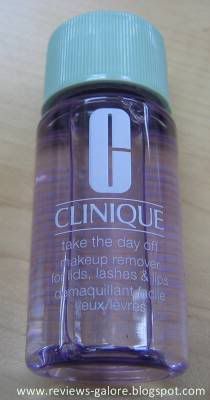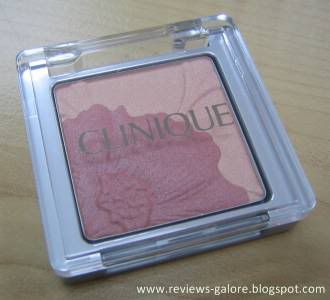 If it wasn't for these two items, I think I would have just kicked up a huge fuss at the counter. To everyone else that wants to check this deal out, go ahead, but please don't go to the Jusco Midvalley counter…nuff' said.


PS: Remember the glosswear promotion I mentioned? The Clinique promoter didn't even know about the promotion when I asked her about it! She had to go and check with her colleague and flip through some book before telling me "Yes got, just start today only" (like duh, I already knew that!)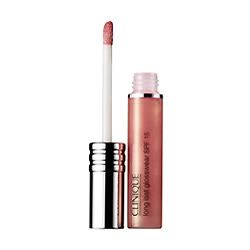 Anyway, I had a chance to try out the gloss, and personally I'm not too fond of it. Waaayy too sticky for my liking, but for those that like sticky (the stickier the gloss, the longer it lasts), it's retailing for RM63.00.
Labels: makeup, promos, tips n news