Gloves in a Bottle (+ sampling!)…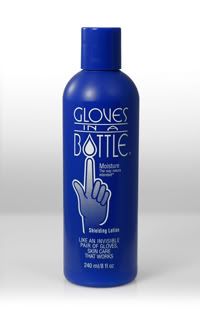 I was recently sent
Gloves in a Bottle
to review, and after a couple of weeks' use, I have to say the results have been quite satisfying. I also have some samples to give out, so do continue reading. :)
Description:
Gloves In a Bottle is a shielding lotion that rapidly absorbs into, and bonds with, the outer layer of skin creating a protective layer while retaining the natural moisture from within. This invisible glove helps reduce natural oil and moisture loss allowing skin to heal itself, a good remedy for dry skin.
The product does not wash off but comes off naturally with exfoliated skin cells, and each application lasts for up to four hours. Gloves In a Bottle is greaseless, non-sticky, fragrance-free, hypoallergenic, completely safe and non-toxic.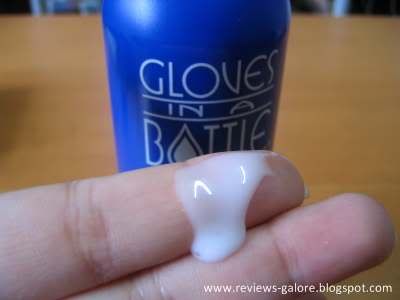 The Verdict:
For a lotion, this is actually quite liquid-like
(as you can see from the picture above)
. Upon application, it was rapidly absorbed into my skin – I like this aspect as I'm not usually the kind of person that can sit there and wait for lotions/ creams to sink in.
Similarly to
Tine
, who applied this on other dry areas, I tried this on my right ankle in particular (
I've scar tissue there from a previous accident, and the skin there tends to dry out despite my best efforts, leading to a lot of itching and scratching – it's a vicious cycle)
, so this would be the ultimate test. For a whole week, I applied it to the area every morning before leaving for work.
Day One –
nothing great. Apart from somewhat reduced itching, there was no real difference.
Day Two –
itching was completely gone, and the irritated skin was slowly starting to subside.
Day Four –
the flaky skin started rubbing off in the shower, and skin tone is starting to slowly even out
(previously it was patchy because of the flaky skin and irritation)
Day Six –
apart from the scar itself
(which sadly this product can't do anything about)
, the irritation is gone, and slowly (but surely!), the skin tone's finally going back to normal. Skin texture is also getting better.
After the week was up, there's been some marked improvement in the area, which I'm quite pleasantly surprised with. I'm also applying it to my elbows and arms, which are now nicely hydrated. It may be pertinent to note that although the product is called Gloves In a Bottle, the description implies that it is for dry skin and its conditions overall, and can therefore be used on any area with dry skin
(but apply wisely of course!)
It also has a very faint, negligible scent, which I also like as it doesn't clash if I wear perfume.
The only drawback is that it's not available in Malaysia, and has to be ordered off their
website
.
Rating: 4.5 / 5


** I have some samples of Gloves in a Bottle to give away on a first come first served basis, so drop me an email with your details to communicationz[at]gmail[dot]com if you want to try it out. Each sample contains up to four applications.

Note: This is only open to readers within Peninsula Malaysia only, owing to the nature of the sample. :) To my international readers, hopefully I'll be able to work something out for you guys soon k?