The Daily Grind…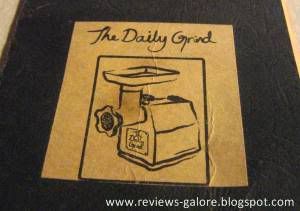 It's been a while since I've ventured into Bangsar Village…seems like each time I go there, the shops have all changed! This time around, it was the restaurant on the lower ground level (I think it used to be some Vietnamese place before)…which is now
The Daily Grind
.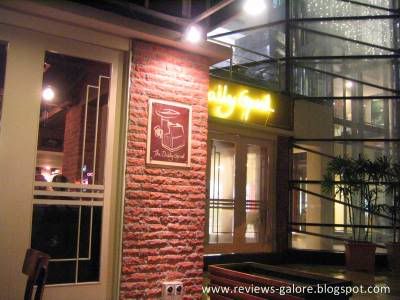 This place claims to be a specialist in making its own burgers. At first look, the place retains a lot of old western charm with a lot of red bricks and timber…definitely very cosy, where you can opt to dine inside the restaurant, or outside on the patio.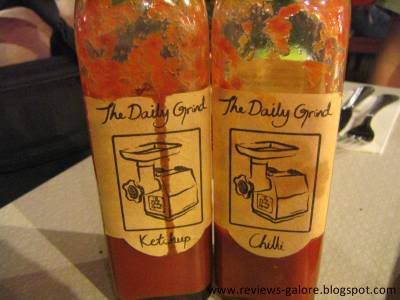 They even make their own tomato and chilli sauce – although the tomato sauce tastes more like spaghetti sauce to me…very full bodied, and a perfect complement to the dishes on the menu. Their sauces don't contain any additives or preservatives, so don't complain if the sauces are served cold to your table…you wouldn't want them room temperature and have food poisoning, right?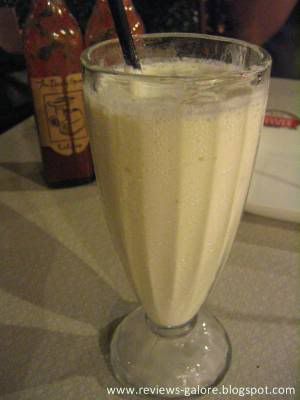 Their Vanilla milkshake with homemade ice cream (RM14) is what my friend deemed "Happy Food". It's super rich, and you can really taste the cream in it – NOT recommended if you're on a diet!!


I had a Monin & Soda, which is flavoured syrups in soda water. The Blood Orange variant (RM12) was certainly intriguing…I'd liken the taste to a mix between grapefruit and tangerine, with a tart undertone. Very refreshing...


Soup of the day, which happened to be corn (RM8.00). No Campbell's soup stock to be found here, but note that the soup does tend to be rather watery. I prefer my cream soup to have a bit of bite, so this was a little disappointing.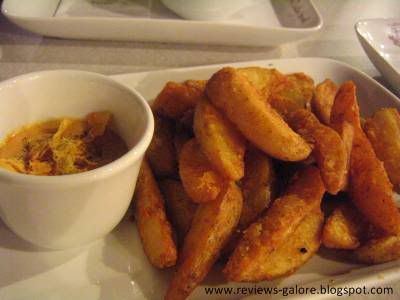 Spiced Potato Wedges with homemade Nacho Sauce (RM11). My friend was raving about this one before we even reached the restaurant, and his tastebuds are usually spot on so you can imagine…usually there are usually one or two pieces left on the plate, but this time the plate was TOTALLY CLEANED OUT
(including the sauce!)
...this is a
MUST HAVE
on the menu
…*heaven*
Now on to the main course – you'd have to be a bit mad to have something other than burgers seeing as it's their specialty, and there's everything from chicken and beef to salmon
(no pork though, such a pity)
with alternatives for vegans. Their meat is freshly ground on the premises, which is supposed to make the meat very tender and succulent. We tried one burger from the chicken and beef selections, and were quite pleasantly surprised.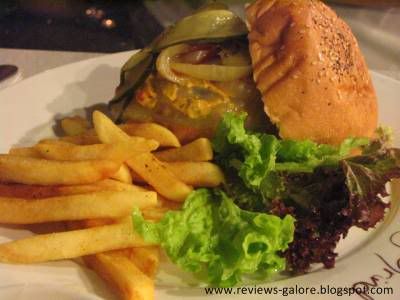 Chicken Double Cheese Burger (RM27). Two thick slices of cheddar cheese, one under & one on top of a juicy grilled chicken patty served with ketchup, mustard and pickles. This was alright, although I'd rather have eaten just the chicken patty on its own. The giant onion slices however were a turnoff since I like my raw onions FINELY sliced (too thick and the smell goes up your nose), but if you like giant slices of pickles and raw onions, by all means this is a pretty good burger on the whole.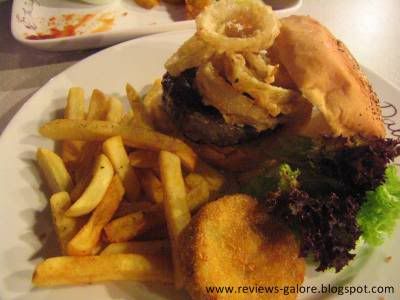 Down on the Farm Burger (RM32). A barbecue basted & smoky grilled beef patty stacked with crisp onion rings & corn cake. The patty was HUGE…the onion rings were EXCELLENT (similar to TGIF's), and the entire combination was a gastronomical adventure. If I had to change only one thing, it would be the corn cake…it's nice enough alone, but after eating the beef patty and onion rings, it's rather tasteless in comparison. Maybe they should consider serving it as a side dish on its own instead of with the burgers.

Otherwise, I was really impressed by the food – when you order, the server notifies you that their burgers are always cooked to medium doneness unless specified. I was a bit apprehensive at first seeing as it's really hard to get the doneness done just right and the meat ends up over- or undercooked (usually the latter). Since the server was quite persuasive citing the golden rule – "If it's undercooked I can always cook it more, I just can't uncook it if it's overcooked", I acquiesced and sat back to see the results.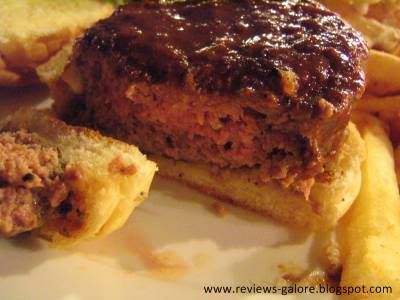 Now take note – this is a sight to behold…medium doneness, cooked to perfection. The outside is nicely seared to lock in the juices, while the centre is JUST cooked with a hint of pinkness. Suffice to say, the server gets 'two thumbs up' for knowing his stuff…and I went home feeling like a stuffed (but extremely happy) turkey.
The house specialties are supposed to be the Foie Gras Burger (RM55) that comes with a diced foie gras-filled beef patty with onion cranberry jam and balsamic palm sugar glaze, and the Stinky Blue Burger (RM40) with blue cheese sauce, toasted walnuts and sweet sour apple compote. I haven't tried these yet, but
Shortcake
says they're good and she hasn't steered me wrong yet. :)
Portions are definitely more than generous for your average person, so if you're planning to order appetizers and dessert, you might want to think about sharing the entrée. Their music selection (for those of you who deem this an important feature) is also superb for easy listening. I think I'm in love with that place…
The Daily Grind
LG8, Lower Ground Floor,
Bangsar Village, 1 Jalan Telawi,
1, Bangsar Baru, Kuala Lumpur
Tel: 03-2287 6708

Rating: 4.5 / 5
Value: $$
Labels: food