Boots Extremely C Triple White Pore Refining Essence...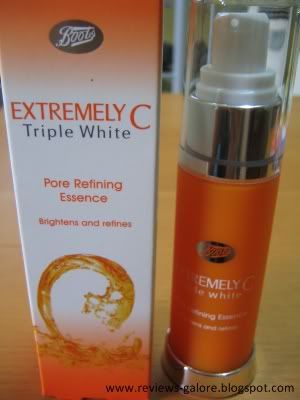 This is the second product from the Boots Extremely C range I'm trying – already loving the Triple White Energising Night Cream I reviewed in
this
post.
Description:
A rapidly absorbed essence specially formulated to refine and tighten pores, improving the appearance of fine lines, by smoothing, leaving your skin radiant and feeling revitalized.
Triple C Complex enriched with Ascorbyl Glucoside, Sodium Ascorbyl Phosphate and Ascorbyl Palmitate, plus Vitamins A and E, give enhanced whitening effects, helping inhibit the production of melanin, brightening dark spots and providing anti-oxidant effects.




Triple C Complex to effectively brighten skin




Citrus Extract Complex and Tangerine Extract help increase the turnover of dead skin cells, refreshing and revealing brighter skin.




Silk Proteins bind water molecules, helping restore skin's natural moisture balance.




Microspheres including Sodium Hyaluronate hydrate from the skin's natural moisture, helping give plumping and smoothing effects.




Witch Hazel Extract helps refine and tighten pores.
Directions:
Use after cleansing and toning to prepare skin for moisturizing. Apply with fingertips, smoothing onto your face and neck. Avoid direct contact with the eyes. Keep away from heat and direct sunlight. For best results, use as part of your Boots Extremely C skincare regime.

The Verdict:
It's not as good as I'd hoped…the pore refining definitely works, but it takes a long time to be absorbed, and the pump mechanism of the bottle is a bit tricky – sometimes it just squirts a huge amount into your palm (or if unlucky, it ends up sprayed all over your dressing table), or miniscule amounts when you press it too slowly.

But bottle design woes aside, I'm still not too impressed with it – the bottle doesn't last too long either. I've only been using it two weeks, and the contents are already one third gone. I think I'll pass on this next round.

That said, the Boots Extremely C range has got a variety of products worth checking out – I'll definitely be picking up more on my next trip…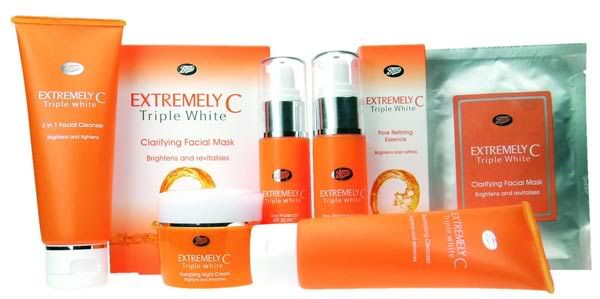 Rating: 3 / 5
Value: $
Labels: skincare