Body Shop Vitamin C Skin Boost...
I don't think there's anyone out there that hasn't had skin woes at one time or another. For me, it was during my studying days…I had the worst case of pimples ever (or so it seemed to me at the time), and not even a stint in Australia could help it any (apparently sometimes its due to the weather). It got so bad at one point that I was trying almost everything in the market short of cortisone shots, to no avail. But they say every cloud has a silver lining, and this product is mine.
After returning from Australia, a product advisor at Body Shop suggested that I try the
Vitamin C Skin Boost
…
Description:

A glycerin-based skin pick-me-up which is applied prior to moisturizer, the Vitamin C Skin Boost gives a daily radiance lift and antioxidant boost. Restores and protects skin's glow. Active ingredients include:
Glycerin – An effective moisturizer which helps improve softness and maximize hydration.

Lanolin – One of nature's richest moisturizers. It is readily absorbed by the skin and provides good protection.

Orange Flower Water – Gently refreshes and hydrates the skin.

Vitamin C – Helps to fight free radical damage and brightens skin.

Directions:
The instructions are simple enough – simply apply to cleansed face and neck, using your fingertips, in the morning or evening, under your moisturizer.

The Verdict:
It doesn't get any better than this. The lovely orange scent does wonders for your senses and helps to relax you (which also helps since pimples can be caused by stress!), and the glycerin base provides an excellent protective layer against the elements. As a bonus, it also acts as a good make up base since the Skin Boost actually smoothens out your skin surface.

But here is the real clincher: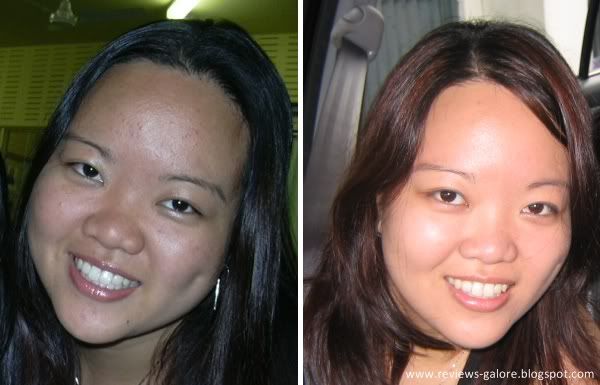 Before and After – the one on the left was taken in Australia early 2004 (on a relatively GOOD day, I might add), and the picture on the right was taken in Dec the same year…after just two month's worth of daily application of the Skin Boost. I still use it till today, and while I've gotten the odd breakout now and then, I've yet to see a pimple attack anywhere close to my pre-Skin Boost days.

On a side note, the same product advisor that suggested Skin Boost to me? Haha…he's now a senior product consultant and a firm friend – anytime Body Shop has sales or new products he thinks I'll like, he drops me a line (also good for business right?). The next time you're at the Body Shop in Midvalley, look for Man (pronounced 'Mah-nn') and tell him I sent you… :)


Rating: 5 / 5
Value: $$$ (this stuff is worth its weight in gold!)
Labels: skincare