Body Shop Spa Wisdom - On a High Hydrating Puree...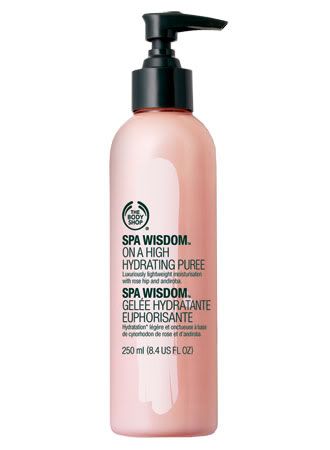 Over the weekend, I was at the Body Shop in Pavilion, and tried this product – and I think I've found a new vice.
Description:
The new
Spa Wisdom – On a High Hydrating Puree
is a soothing, lightweight and cooling all-over moisturizing body gel that gently hydrates the skin. It is a delicately fragranced, non-sticky product that leaves skin feeling instantly refreshed and silky smooth.
The Hydrating Puree contains skin-nourishing rose hip oil, moisturising andiroba oil from the Amazon, Community Trade babassu oil from Brazil, and cooling aloe vera gel to create a wonderfully light and non-greasy skin moisturiser.
Directions:
Pump the puree into your hand and smooth liberally onto towel dried skin. Can be applied after a bath or shower or as often as required.
The Verdict:
When I first saw this, my initial thought was
"It's going to be just like the Africa Spa scrub – creamy and takes a long time to absorb"
but this is a refreshing change from the usual body butters at Body Shop. Their claim of a water-based lotion rings true, with the puree disappearing into your skin in less than half a minute…definitely good for those of us who just want a quick moisture fix without the greasy feel afterwards.
The smell's pretty unusual…I'd liken it to a mix of very light rose and aloe…definitely not unpleasant. Also, the shop lady told me that thanks to the aloe vera, the lotion actually keeps you cool on hot days (although I have yet to test this part out).
However, at RM65 per bottle it's a little steep for your typical daily lotion, seeing as you can get a bigger bottle of say, St Ives lotion (about 600ml?) for about a third of the price – but personally, I'd definitely buy it just because of the water-base. I can't stand lotions that result in you leaving oily fingerprints all over the place (glass, plastic and paper come to mind) for at least half an hour after application. In contrast, I've actually applied the puree twice since starting this entry, and my keyboard and table surface is still pristine. :)

The Body Shop Spa Wisdom – On a High Hydrating Puree comes in 250ml bottles, and retails for RM65.00 at all Body Shop outlets.


Rating: 4 / 5
Value: $
Labels: bodycare