Biotherm Line Peel Crystalescent...
Just got some samples in from Biotherm's latest range to try – Biotherm Line Peel Crystalscent, designed for intense skin renewing.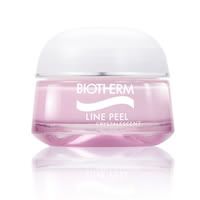 The Claim:
This is the 1st ani-corneo damage multi-renewer, and promises to deliver transparent, luminescent, crystalescent skin. This new and improved range combines Biotherm's proven Biopeeling System, Pure Extract of Thermal Plankton™ (PETP) and the breakthrough Vegetal Biolysat active ingredient to swiftly refine and renew dull, lifeless skin.



Innovative pearlescents for intense illumination




The Biopeeling System to optimize skin's natural self-peeling mechanism, smoothing out imperfections




Vegetal Biolysat to facilitate the birth of new, more resistant cells

Directions :
1. Apply the cream in smooth, pressed movements.
2. Give yourself an energizing micro-massage by making gentle, circular movements using your fingertips.

The Verdict:
I must admit, the 'Biopeeling System' of the marketing spiel intrigued me. Imagine having luminous skin and getting rid of those pigmentation marks left behind by bygone zits. However, I don't think I can continue using this indefinitely – at first, my skin looked positively radiant from use of the Line Peel Crystalescent cream, but it also left tiny flakes (the peeling at work, perhaps) on my T-Zone area…not a good thing if you're trying to put on makeup. The smell didn't do much for me either (maybe its just me?)

I'd give this a go once a week or so on my 'off-day' (ie. when I don't need to go out / wear makeup) since I really did like the initial results.


Biotherm Line Peel Crystalescent is now available at all Biotherm counters nationwide.


Next on my target it's the Line Peel Polisher, which is their Polishing Cream Intense Renewer. Stay tuned!
Labels: skincare