Boots Extremely C Triple White Energising Night Cream...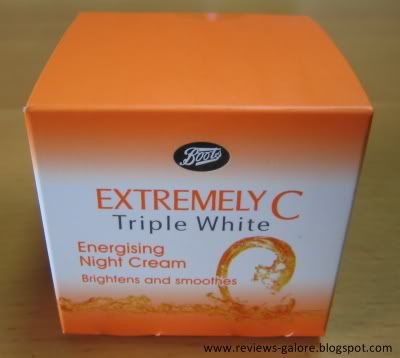 Description:
A rich night cream specially formulated to energise your skin overnight, whilst helping improve the appearance of fine lines and wrinkles, leaving your skin softer and younger looking.

Triple C Complex enriched with Ascorbyl Glucoside, Sodium Ascorbyl Phosphate and Ascorbyl Palmitate, plus Vitamins A and E, give enhanced whitening effects, helping inhibit the production of melanin, brightening dark spots and providing anti-oxidant effects.




Citrus Extract Complex and Tangerine Extract help increase the turnover of dead skin cells, refreshing and revealing brighter skin.




Soybean Protein, Honey Extract, Cassia Betaglucan, Lecithin and Cholesterol, nourish and moisturize the skin, smoothing the appearance of fine lines and wrinkles.




A synergistic Multi Mineral Complex including Sodium, Magnesium, Zinc and Manganese PCA's mourish the skin, energizing intra-cellular ATP and stimulating cell growth.
Soluble Collagen helps support natural Collagen, smoothing and improving skin's elasticity.
Directions:
Use at night, after cleansing and toning, as part of your daily skincare regime. Apply with fingertips and smooth onto your face and neck. Avoid direct contact with the eyes. Keep away from heat and direct sunlight. For best results, use as part of your Boots extremely C skincare range.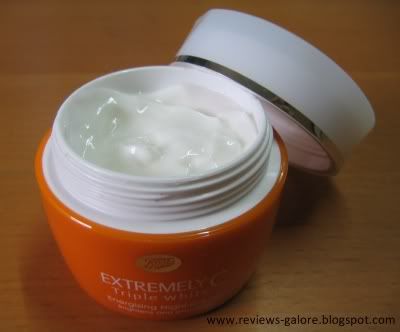 The Verdict:
I've been using this for a while now, and I must admit my skin tends to react really well to Vitamin C-related products. For one, the citrusy scent gives you a boost just before you go to bed and second, there's no sticky aftereffect - gets sucked right into your skin. With its Triple C Complex, it works to effectively brighten skin while you sleep.

After a month's use, I've found less pimples popping up (especially around the hairline) and that my face is less shiny in the mornings. This product is part of the Extremely C Triple White range at Boots – I've also tried their Pore Refining Essence together with the night cream for some unexpectedly good results, but that's for another post.

Only bummer is that this product is not widely available. For now, the Energising Night Cream is available either via the website or at Boots outlets.

Boots Extremely C Triple White Energising Night Cream comes in a 30ml jar at an approximate equivalent value of RM80.


Rating: 4 / 5
Value: $$$
Labels: skincare