Banquet @ Bangsar Village II...
First of all, I'd like to apologize for the serious lack of posts over the last month…been busy with quite a few things, most recent of all being the Rose Rose I Love You musical, which saw me stuck in Genting for a good two weeks. But rest assured, I'm back with plenty of reviews and products to share.

Now that's over and done with…on with the review!
* Photo from NST Online

While at Bangsar Village II recently, some friends decided to eat at the relatively new Banquet eatery on the first floor. As it was owned by the same people who ran Café Café along Jalan Maharajalela, I was expecting a pretty good experience, but ended up a bit disappointed.

First off, let me warn you that the service here is EXCEEDINGLY slow…imagine waiting 15 minutes for a glass of water! Better yet, we ordered two glasses of water (one warm, one cold)…after 15 minutes, the waiter approached us from the back with just one glass of warm water, and proceeded to the front of the restaurant to pour the cold water and bring it back to the table. What the…??

Service aside, the menu looked decent enough, albeit on the high side of pricing – one of the drawbacks of paying for the 'ambience'.


First up, the garlic bread. I'm sorry, but two hunks of bread plonked on a platter that's way too big for it is NOT appetizing. For RM6 and a 20 minute wait, I expected a lot better. Taste wasn't too bad though.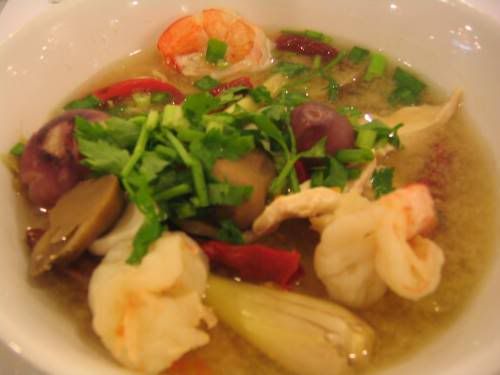 Next up was the Vermicelli in clear Tom Yam Soup. (RM18) The soup was alright, although a tad too sour for my palate. The amount of vegetables and meat included is fair, and the prawns were admittedly quite fresh, but if you're not fond of onions, I'd suggest you give this one a miss – there are HUGE bulbs of them floating in the soup!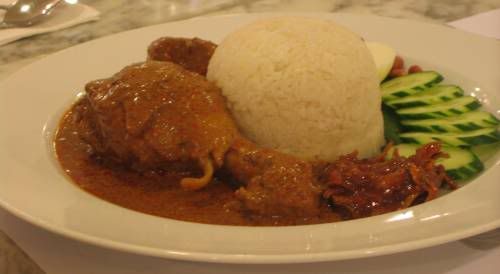 By all estimations, the Nasi Lemak (RM18) fell far short of the mark. First comment was 'only one piece of chicken?', followed by the rather bland taste of the curry. Not recommended at ALL.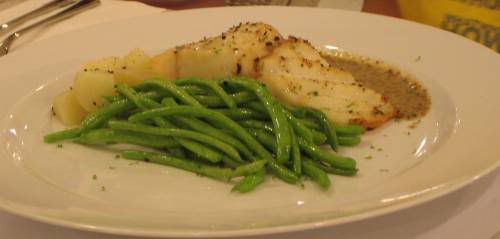 Last but not least was the Grilled Butter Fish (RM25), which came with a wholegrain mustard sauce and sautéed beans. Can't find too much fault with the sauce as it was definitely a generous amount, and the fish was just right.
On the whole, the food standard hovers around the mediocre to average level, but for the prices they're charging, it's literally daylight robbery to eat there. Only recommended if there's nowhere else better to eat (and ONLY if the
DeliCious
outlet downstairs ever decides to close…as if!)
BANQUET
1F-28 Bangsar Village II
2 Jalan Telawi Satu
Bangsar Baru, Kuala Lumpur
Rating: 1 / 5
Value: $
Labels: food